10 Best Cantilever Umbrellas for 2021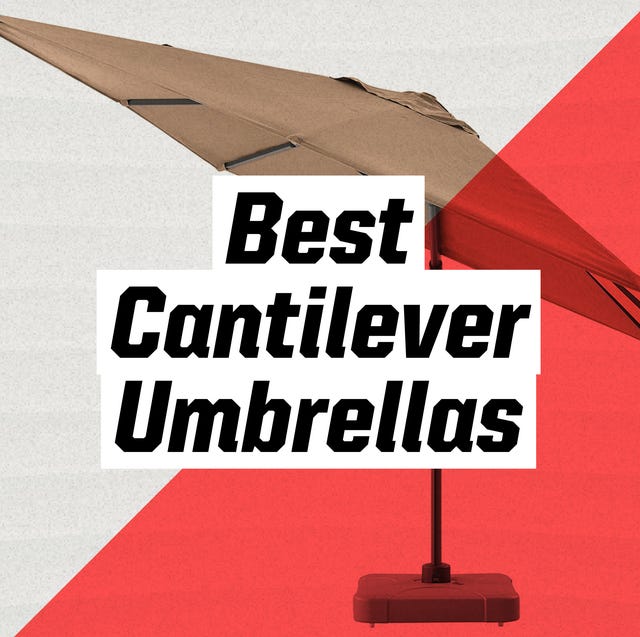 Staff
Cantilever umbrellas are the solution for outdoor dining tables without center holes (if yours has a center hole, patio umbrella and base will suffice), and they're ideal for lounge-style seating areas because the base sits outside the cluster of furniture. There's an umbrella to suit just about every space, whether it's a tiny deck with a 36-inch table or a large patio that gets scorched by the midday sun. Along with providing shade, they're also a great way to add a pop of color when sofas and side chairs are done in neutral tones. And, if there's a sudden downpour during your barbecue, a cantilever umbrella will have you covered.
What to Consider
The first thing to nail down is the umbrella's size. The rule of thumb is that it should be 2 feet wider on all sides of a dining table, but you may want to add a few extra inches if you have deep chairs. The same generally holds true for coverage of lounge chairs or other furniture. While it may be tempting to buy an umbrella that's much larger for extra shade, keep in mind that it'll look awkward if it isn't proportionally balanced with what's around it. Cantilever umbrellas usually start at about 6 feet wide, though it's possible to find them smaller, and run up to 13 feet wide or more.
Another consideration is the canopy's fabric. The majority are made from polyester, though a high-performance fabric, like Sunbrella, is typically more durable. Of course, you'll want something that's water-resistant, blocks UV rays, and won't fade, plus the umbrella's frame should be treated so it won't rust. Other features to look for include tilt and rotation of the canopy, along with the umbrella's opening and closing mechanism.
It's worth noting that weighted bases aren't always included. For some of the heavier, higher-end umbrellas, that can mean adding an extra $200 to the total cost.
How We Selected
All of the cantilever umbrellas selected below all have an average user rating of four stars or more. Quality of materials was our top consideration, including the durability of the canopy's fabric and the strength and heft of the frame, along with how much range the umbrella offers to block the sun. We also chose a variety of shapes and sizes — round, square, rectangle, and others — plus options across multiple price points. Note that several of our choices below are available in other size and color options.
Advertisement – Continue Reading Below
1
The Rectangular Pick
Sunnyglade Rectangular Cantilever Umbrella
Sunnyglade
amazon.com
$279.99
 It stands to reason that the best way to shade a rectangular dining table is with an umbrella that's the same shape. This one fits the bill, and will appeal to those who favor modern style and clean lines. It features a fade-resistant polyester canopy that's said to blocks 98 percent of UV rays, a study powder-coated metal frame to prevent rust, eight steel ribs, and a top vent to control the breeze. It comes in two additional colors—bright blue or vibrant red—but the weighted base is sold separately.
2
Best Features
Purple Leaf 11-Foot Cantilever Umbrella
Purple Leaf
amazon.com
$529.00
This cantilever umbrella is highly rated for its quality and extra features. For starters, the canopy rotates 360 degrees, with a tilt option to shield UV rays from all angles. It's made from a durable polyester fabric that guards against fading and is water-repellent, with a well-constructed crank-lift handle. The canopy has eight heavy-duty steel ribs and the aluminum pole and frame are powder-coated in silver and won't oxidize. Keep in mind that you'll need to cover the cost of a weighted base, which is sold separately.
3
Best Sunbrella
Sol 72 Ceylon Cantilever Umbrella
Sol 72 Outdoor
wayfair.com
$939.99
We love everything about this umbrella — and customers do too, giving it an average 4.7 rating. The quality and lineup of features is exceptional, starting with its high-performance Sunbrella canopy that delivers maximum protection against moisture, fading, and UV rays. It locks into multiple positions and swivels 360 degrees, plus it has an easy-to-operate crank lift. The frame is powder-coated in black and it comes with a heavy base that has retractable wheels, and can be filled with sand or water for extra stability.
4
Best Under $100
Devoko 10-Foot Ft Cantilever Umbrella
For a basic, well-made cantilever umbrella that doesn't cost a ton, this is an excellent choice, priced under $100. At 10 feet wide, the round polyester canopy is water-repellant and blocks UV rays, with an iron frame and steel ribs, plus a top vent for airflow. The 60-degree rotation isn't as impressive as some pricier options, but the height is adjustable on its rustproof, powder-coated pole. It operates with a crank that customers say is easy to open and close. The umbrella is available in a handful of colors, including this soothing green, along with a few neutral shades. 
5
The Square Pick
Purple Leaf 10-Foot Cantilever Umbrella
Purple Leaf
amazon.com
$529.00
This umbrella gets high marks from customers, with an average 4.5 rating. Among its top features is the frame's finish, which is powder-coated aluminum and treated to prevent oxidation, but looks like teak — great for those who love a wood-grain frame but don't want the hassle of maintaining it. The polyester canopy repels water, is treated to prevent fading, and offers UV protection, plus it swivels 360 degrees and tilts at multiple angles.The umbrella is available in other sizes, ranging from 9 to 12 feet wide, and a few alternate colors, though it doesn't come with a base. 
6
For Large Backyards
Purple Leaf 13-Foot Cantilever Umbrella
Purple Leaf
amazon.com
$739.00
If your backyard gets a lot of sun or if you want more coverage around a round dining table, your best bet is to buy a cantilever umbrella with an extra-wide canopy. This one spans 13 feet, made with polyester designed to fend off water and mildew, plus it provides  UV protection Another highlight is that the canopy has 360-degree rotation around the powder-coated pole, with a faux wood pattern finish. The base is sold separately, which may be a drawback for some. 
7
For Lighting Up the Night
Best Choice Products 10-Foot Solar-Powered LED Cantilever Umbrella
Best Choice Products
amazon.com
$119.99
This cantilever umbrella will cast a warm glow on your evening, with 24 LED fairy lights twinkling above. 
They're powered by a solar panel set at the top of the steel poll, which is powder-coated to prevent rust. The water- and fade-resistant polyester canopy, which opens with a hand-crank lift, adjusts to different heights and tilts at a 35-degree angle to block the sun. Plus, there's a wind vent to maximize airflow and stability. 
Four stakes are included to secure the cross base in the ground, and there's a more substantial base sold separately to use on decks and patios.  
8
Great for Smaller Spaces
Bettencourt 9-Foot Cantilever Umbrella
Arlmont & Co.
wayfair.com
$118.99
For anyone with minimal outdoor space or a shady backyard, this 6-foot-wide umbrella is a smart choice. It features a powder-coated aluminum pole that has a slight sheen and a polyester canopy, which delivers substantial UV protection with a UPF of 50, plus it's water- and mildew-resistant. The umbrella tilts manually and has a crank lift, and comes in brick red in addition to the beige that's shown.
9
The Double-Wide
Phi Villa 15-Foot-Wide Cantilever Umbrella
Phi Villa
amazon.com
$179.99
$149.99 (17% off)
If your back yard gets a lot of sun or if you want more coverage around a dining table, your best bet is to buy a cantilever umbrella with an extra-wide canopy. This double-wide option spans 15 feet, made with polyester designed to fend off water and mildew, plus it provides some UV protection. Other highlights include an alloy steel frame, a crank lift, and three air vent—plus it comes with a cross base and two sandbags to fill for extra stability. It's available in red and beige in addition to the navy that's shown. 
10
Easiest to Move
Sol 72 Outdoor Cantilever Umbrella
Sol 72 Outdoor
wayfair.com
$559.99
This popular umbrella's features line up with the competition across the board, but there's one that sets it apart from others at this price point: wheels hidden in the base. 
They're especially handy for those with large patios with multiple seating areas. The quality of its polyester canopy is another highlight. In addition to being water- and fade-resistant, and offer UV protection, the fabric is double-coated with polyurethane for extra durability. 
The aluminum frame is powder-coated to keep it from rusting, plus there's an auto-lock system that adjusts the position of the umbrella's angle up to 90 degrees. Filling the base with sand or water is recommended for stabilization. 
This content is created and maintained by a third party, and imported onto this page to help users provide their email addresses. You may be able to find more information about this and similar content at piano.io
Advertisement – Continue Reading Below