12 Best Cheap Champagne Brands So Good, You'll Have Reason to Celebrate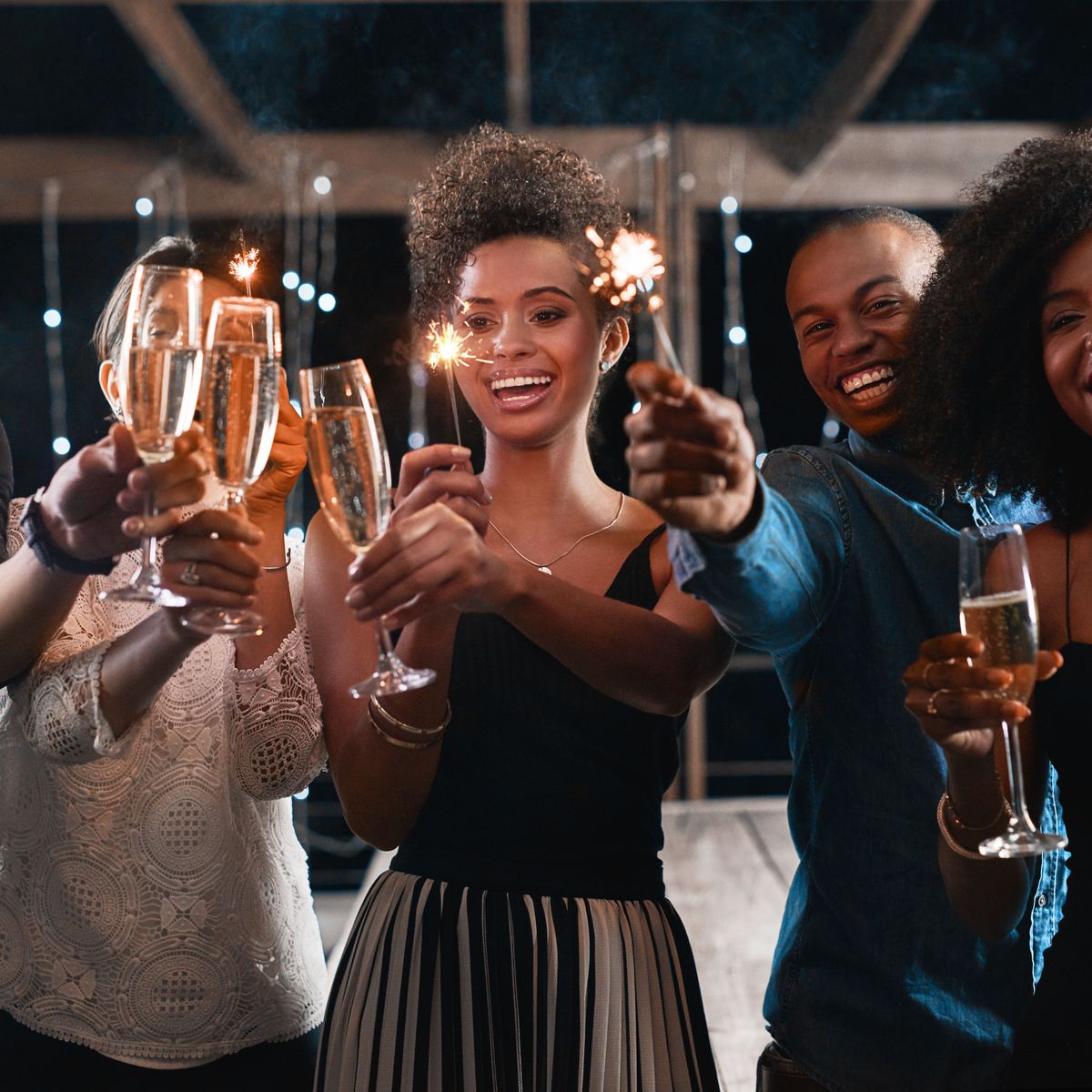 Nothing makes clear that you're ready to celebrate like a big bottle of bubbly. But prices on bottles of big-name brands can often bottom out well above the $100-mark, making it nearly impossible to enjoy your favorite fizz. Good news: While more traditional, classic champagnes are produced exclusively in the small Champagne region of eastern France, similar versions are created elsewhere under the same name. By using the same method, brands are able to use the name without having to import grapes all the way from France. Case in point: companies like Korbel and Wycliff produce s0-called 'California champagnes' which mimic the traditional processes a little closer to home.
Whether you're mixing your champagnes into mimosas on for brunch on a Sunday morning with your girlfriends, or enjoying a flute at your office holiday party, there's no denying that champagne is one of the most versatile sparkling wines out there. Plus, with prices as low as just under $7—and capping out at $25—you are going to to find one within your budget that is perfect for your next occasion, guaranteed. If you're in need of something to celebrate, get happy over the fact that you can now enjoy champagne whenever you want—even if it's just a weeknight.
Great Flavor
1. Nicolas Feuillatte Champagne Brut
This champagne contains notes of pear, apple, almonds and hazelnuts, and has a bright finish. You'll be transported to the south of France in no time.
Best for Gatherings
2. Saint Hilaire Sparkling Brut
This wine is produced in the quaint Limoux region of France, so you'll get the French champagne flavor without the high price tag. At just under $10 a bottle, they're the perfect option for your next party.
The Classic
3. Adre André Brut
If you're on the hunt for something simple, look no further than André. It's under $7 and can be found in pretty much every grocery store. You probably drank it in college, and it still does the trick. When you're in a pinch, it serves as a good go-to.
The California Champagne
4. Wycliff Brut California Champagne
Wycliff is one of the most notable producers of "California Champagne." It's made from a mix of California grapes, and has a crisp, dry finish.
The French Blend
5. Graham Beck N.V Brut
This wine is an equal blend of Chardonnay and Pinot Noir grapes, and has a bright, citrusy finish. The shaper lime flavors are balanced with notes of apple and honeysuckle, giving it a more rounded flavor that tastes far more expensive than its $12 price tag.
For a Sharp Taste
6. Piper-Heidsieck Brut Champagne
This Piper-Heidsieck blend is comprised of Pinot Noir grapes from the Champagne region of France. It has a classic, sharp champagne flavor that works for every holiday party on your list.
The Party Favor
7. Pommery Pommery POP Champagne
These mini bottles are the perfect thing to gift this season. You can buy them in larger packs, but just the individual bottles can make any event feel like a true celebration. Enjoy in a flute (or just out of the bottle with a straw) next time you have your girlfriends over.
The California Blend
8. Scharffenberger Brut Excellence
This wine is produced from grapes grown in Mendocino County, California. Despite being grown in the United States, the wine follows the same process as more traditional French versions.
The Kosher Pick
9. Herzog Selection Blanc de Blanc Champagne
Grapes are procured from the Loire Valley region in France in France to create this light, bright champagne. Bubbly and crisp, it gives off toasty, apple flavors that are perfect for the fall and winter seasons.
The Mimosa-Ready Pick
10. Cook's Brut Champagne
Similar to Andre, Cook's Brut Champagne is sold almost everywhere. It's has a medium-dry flavor that's perfect for mixing into mimosas or Bellinis for Sunday morning brunch.
The Rare Blend
11. Jean-Louis Denois Classsique Brut
This wine is made from "Blancs de Noirs"-style grapes, which means that white juice is produced from 70 percent black grapes. It has a deeper flavor that tastes more like wine, but with champagne's signature bubble.
The Extra Dry Pick
12. Korbel Champagne X Dry California
If you prefer a drier champagne, consider trying this one from Korbel. It's created from a blend of different grape varieties and vintages to ensure that every bottle is exactly the same.
For more stories like this, including celebrity news, beauty and fashion advice, savvy political commentary, and fascinating features, sign up for the Marie Claire newsletter (subscribe here).