12×16 Sheds: A Complete Buying Guide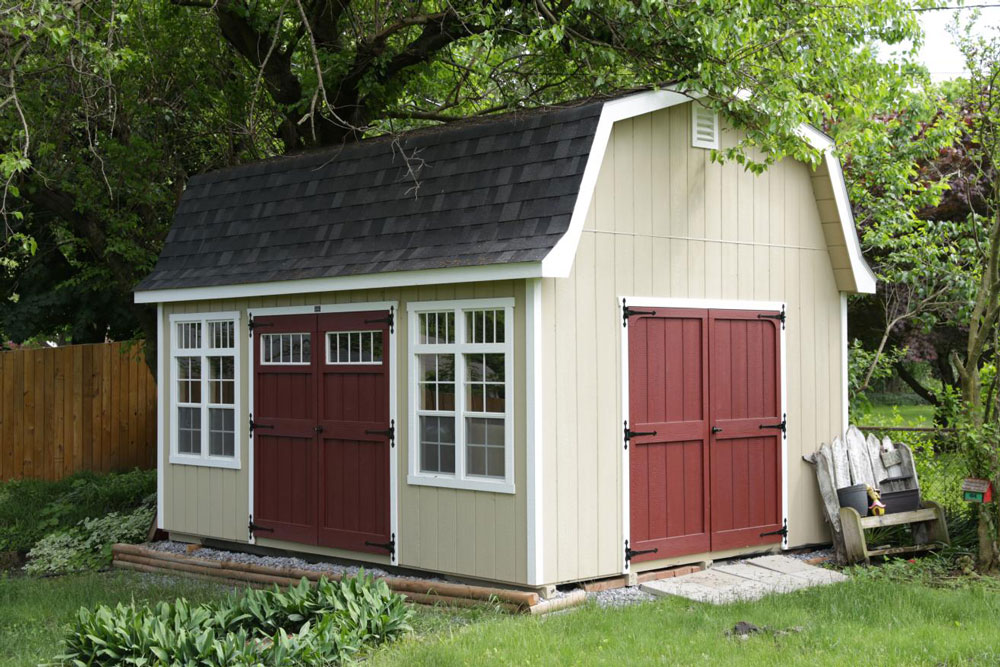 If you're looking for nice, mid-size storage space for your backyard, you might consider buying a 12×16 storage shed. The 12×16 storage shed is a popular size. It is small enough to be maneuvered into most backyards, and yet large enough to hold all your basic garden and lawn maintenance equipment. But is the 12×16 size right for you? 
If you think you might like to buy a 12×16 shed, here are several things you should consider:
Is 12×16 the right size of Storage Shed for me?
When shopping for a backyard storage shed, the size options can seem overwhelming. Our storage sheds start from a tiny 6×6 option to a large 16×48 option! As you can see, the 12×16 shed is a mid-range option.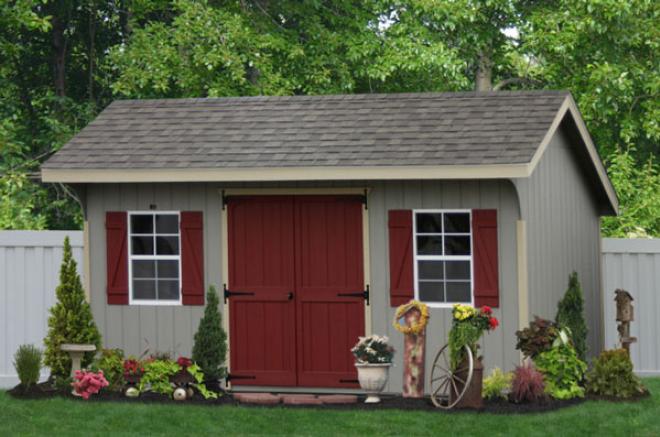 How much Space is in your Yard?
To help you figure out the right size, consider is how much space you have in your yard. Do you have room for a larger shed? The 12×16 version should be small enough to fit in most yards. You don't want a 12×16 shed in a very small backyard so that it looks out of sync with your space.
Do you have Access for getting a 12×16 Storage Shed into the Yard?
Even more than your actual yard space, you should also look at access space. Do you have room to maneuver a larger shed into your backyard? You can measure access points before you buy a 12×16 shed to figure this out. Keep in mind, that a 12×16 shed should have a 14′ wide access so there is room for the eves and a bit of extra. 
A 12×16 Storage Shed gives you 192 square feet of Floor Space
The second thing you should think about is square footage. Think, for instance, about the difference between a 12×12 shed and a 12×16 shed. Glancing at the numbers, it's easy to think of them as about the same size, but remember to think in terms of square feet. Those four extra feet of length add 48 additional square feet!
Make the Most of Your Height in a 12×16 Shed
Finally, don't forget to consider cubic feet as well. You can add storage space to a 12×16 shed simply by choosing an option with a greater height! By adding a loft or extra shelving, you will be able to add storage without taking any more square footage from your backyard.
 
With so many sizes to choose from, how do you figure out what size of shed you need?
What is the price of a 12×16 shed?
The price of a 12×16 shed will vary a bit depending on what sort of siding you choose and what style you prefer. The cheapest 12×16 storage shed we sell is our $3,506 standard Mini barn shed with wood siding. The average 12×16 storage shed will cost about $5,765.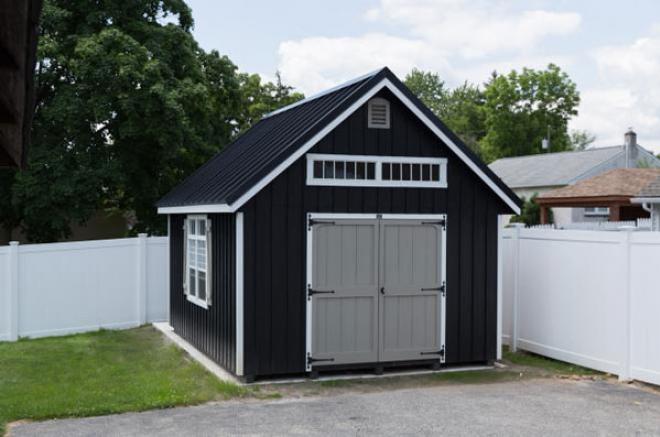 The biggest thing that affects price is the style of storage shed you choose. Later on in this article, I will go into more detail about different styles we sell, the pricing of each style, and the pros and cons of each style.
The other thing that affects price is the siding choice. A 12×16 storage shed with vinyl siding will run around $1000 more than the same shed with wood siding. A few storage shed styles allow for the option of wood clapboard siding, which runs about $2,300 more than the standard wood siding.
What can I fit inside a 12×16 Shed?
A 12×16 shed can comfortably fit two small pieces of outdoor equipment, such as a lawn mower or a 4-wheeler. Besides these two pieces of equipment, there will be room to maneuver them and walk around them. However, depending on your door placement, you may have to move one piece of equipment out of the shed before you can access the other piece of equipment.
Depending on the size of your ATV or lawn mower, you will have room for storage shelves and some smaller hand equipment such as a rake, a wheelbarrow, a leaf blower. You may also have some loft space, depending on what style 12×16 Storage Shed you choose. If want roughly the same amount of space with a slightly different configuration, you may want to check out pricing for a 10×20 storage shed.
How can I get the most out of a 12×16 shed?
No matter what style of 12×16 shed you get, you will end up with 192 sq. feet of space. The easiest way to maximize this space is to add shelves. By taking all the things that would otherwise pile up on the floor, and instead put them on shelves, you will free up floor space, leaving room for you to maneuver your small engine equipment.
You can also consider hanging long ungainly tools, such as rakes or shovels, from the wall. Hanging things on the wall will make them easy to see, and will keep them from getting cluttered on a shelf or leaning against the wall where they could fall over, or where someone could trip over them.
Another thing you can do with a 12×16 shed that optimizes space is to add a loft. If you choose a style of shed that has a steeper roof pitch, there will be extra room for adding storage in a loft area.
Get more ideas on how to make the most of a small shed in our 10×12 storage sheds post.
What style of 12×16 shed should I buy?
The next important question is what style 12×16 storage shed to buy. We offer many styles of 12×16 storage sheds. Here are five options you might want to consider, and the pros and cons of each.
Standard 12×16 Minibarn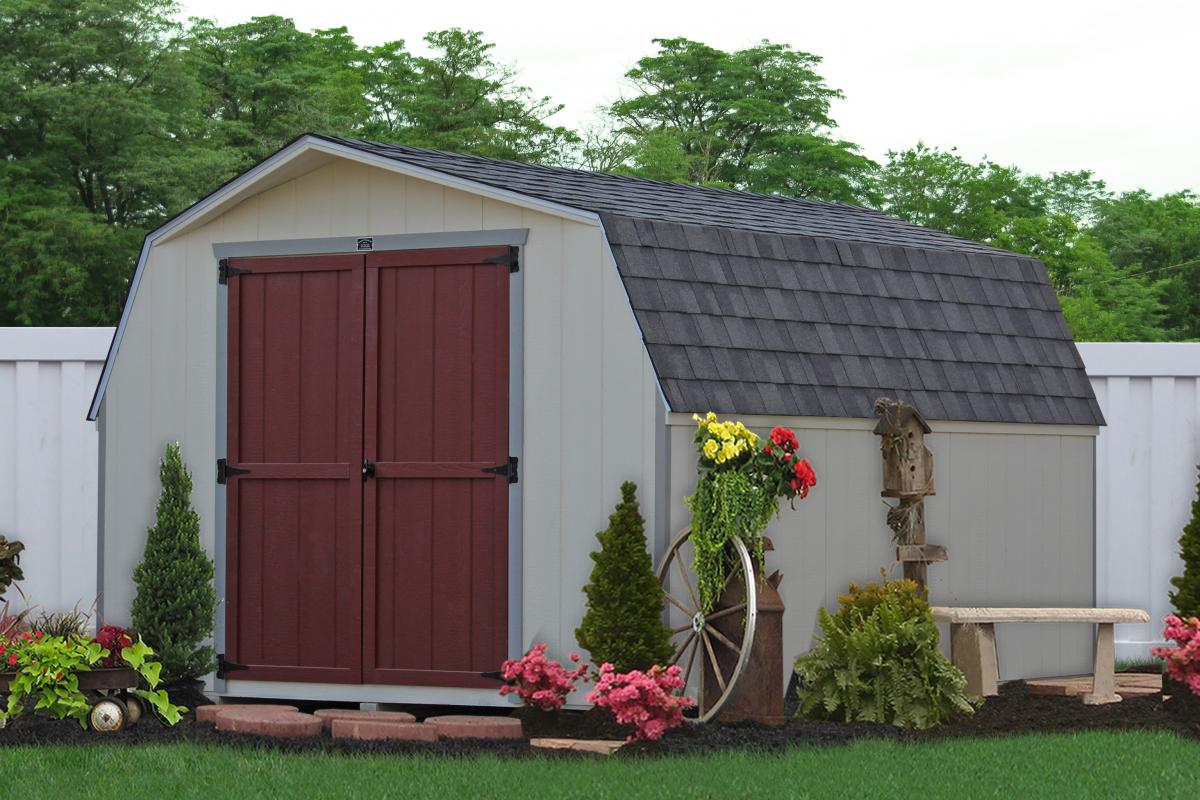 12×16 MiniBarn Sheds $3,506 (Wood)
Pros:
The Cheapest 12×16 storage shed option
Cute barn shape
It Will cover all your basic storage needs
Cons:
Only one window included
Limited door and window placement options
No room for a loft
Standard 12×16 Saltbox Shed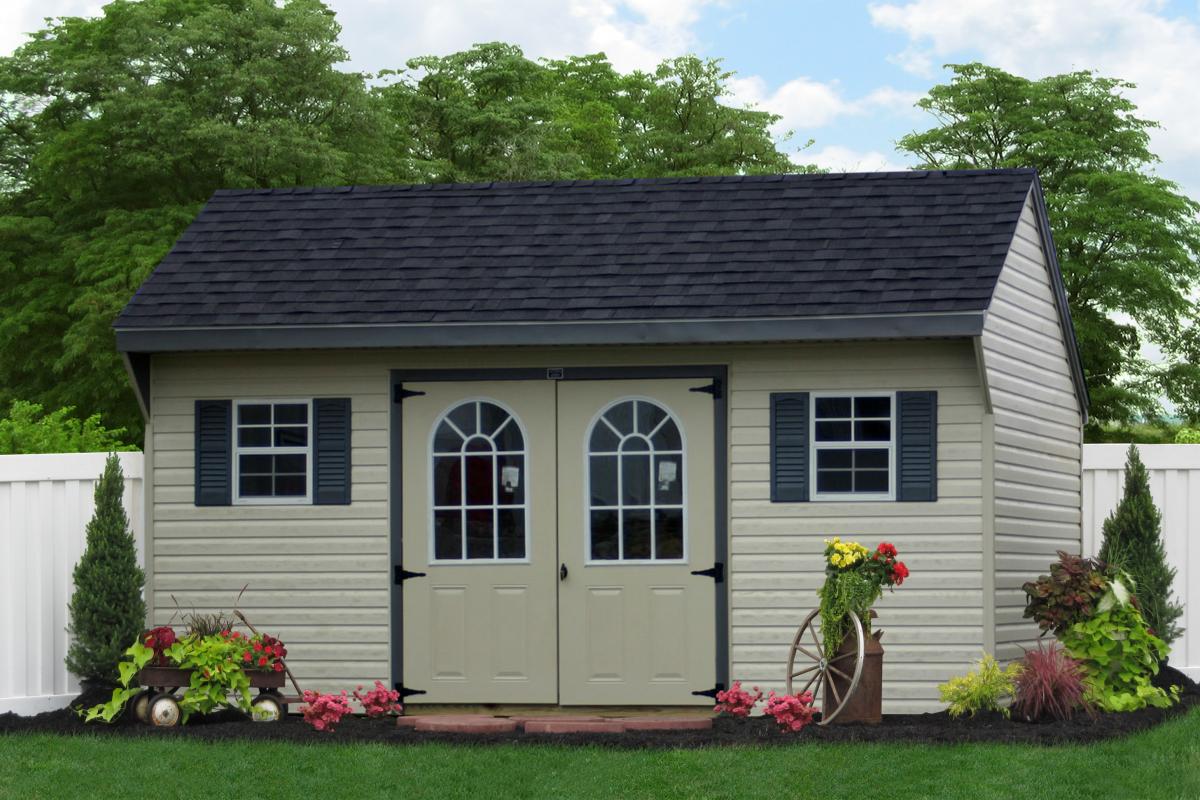 12×16 Standard Saltbox $6,670 (Vinyl)
Pros:
Unique and charming saltbox roof shape
Two windows are included, providing more light than the Standard Minibarn
One of the cheaper shed options
Cons:
Atypical roof design means not much space for a loft
Comes with 18×23 windows, which are fairly small
Note: If you love the look of the Standard Saltbox but want bigger windows, consider upgrading to the Classic Saltbox Shed. This shed is very similar, but it comes with wider overhangs and bigger windows and costs just $721 more.
Classic 12×16 Workshop Shed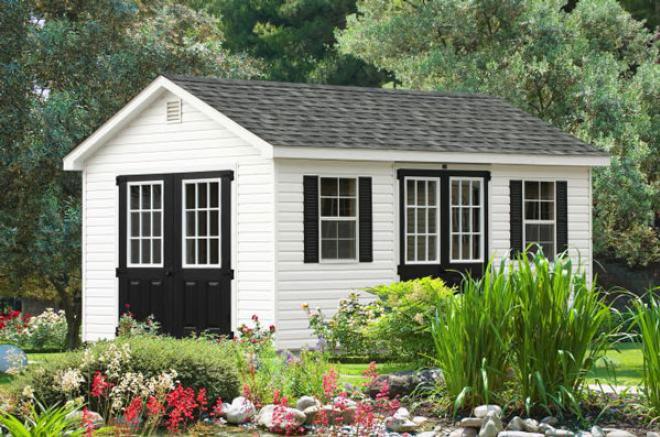 12×16 Classic Workshop $7,183 (Vinyl)
Pros:
Midrange option of your classic, A-shape roof
Still on the cheaper side, price-wise
Room for a small loft
Cons:
While the windows are a larger 18×36 size, you are limited to two
The classic A-shape roof style isn't as charming as some other roof options
Remember, if you like the look of the Classic A-shape Roof, you can always choose the cheaper Standard Workshop Shed, or upgrade to the pricier Premier Workshop shed, which offers more windows.
Classic 12×16 Gambrel Shed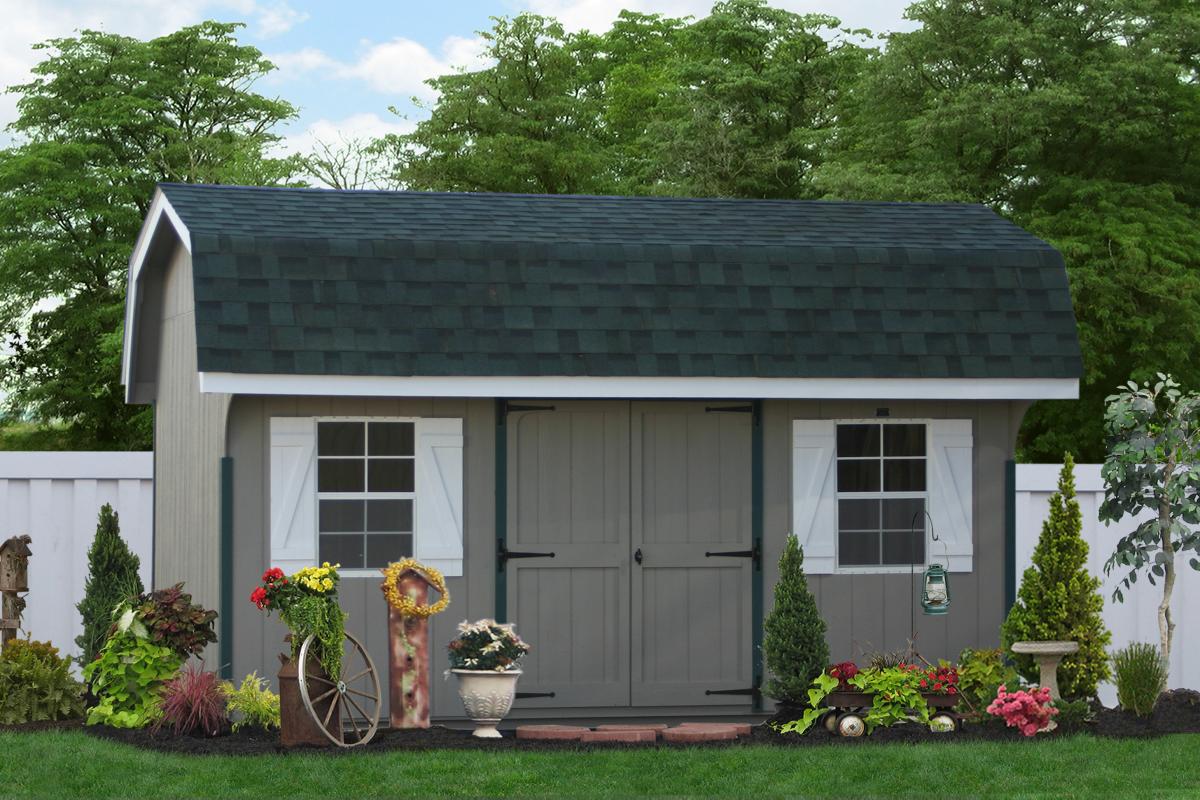 12×16 Gambrel With Wood Siding $5,544 (Wood)
Pros:
Charming barn shape
Room for a loft
Cons:
On the pricier side
Still features only two windows
Premier 12×16 Dutch Barn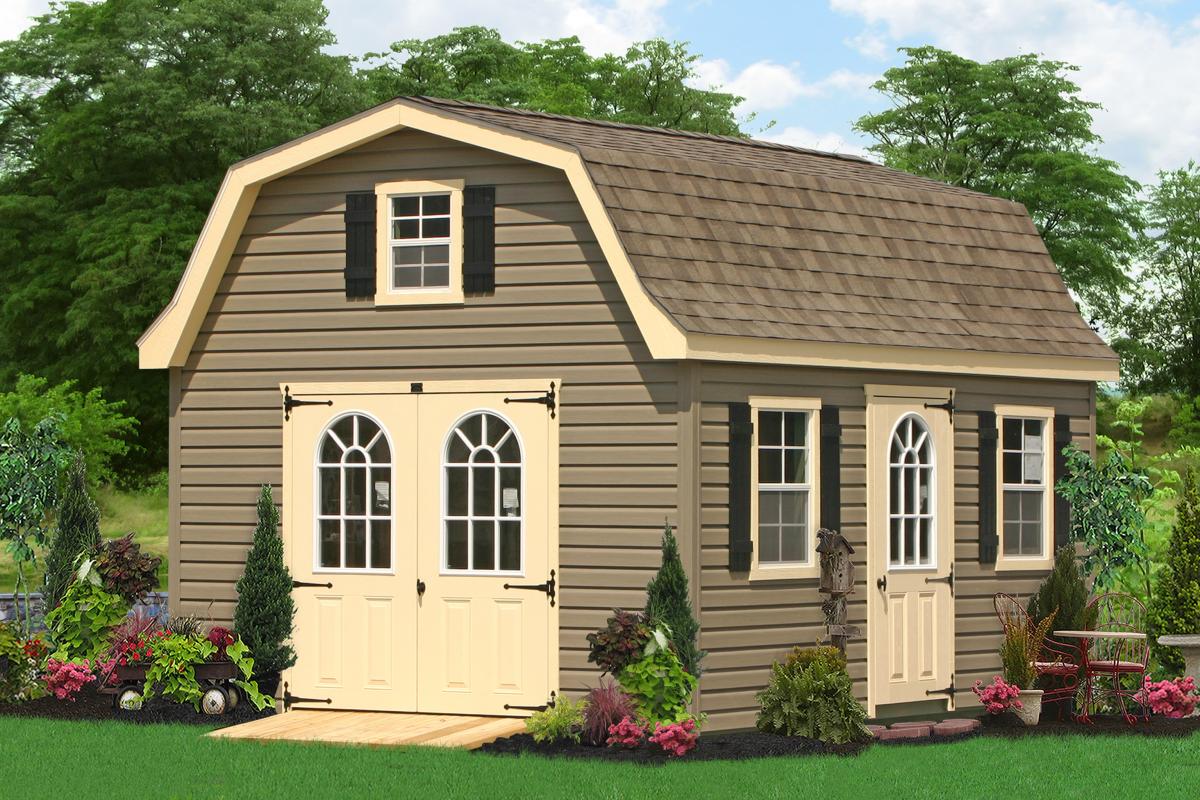 12×16 Premier Dutch Barn $7,992 (Wood)
Pros:
Our most spacious 12×16 shed, with plenty of loft space
Features four 24×36 windows, letting in plenty of light
Cons:
One of the priciest 12×16 sheds we offer
We hope you got what you are looking for if you don't just give us a call at 717-442-3281 or get a FREE Estimate! We will be glad to assist you with whatever you want.
Premier 12×16 Garden Sheds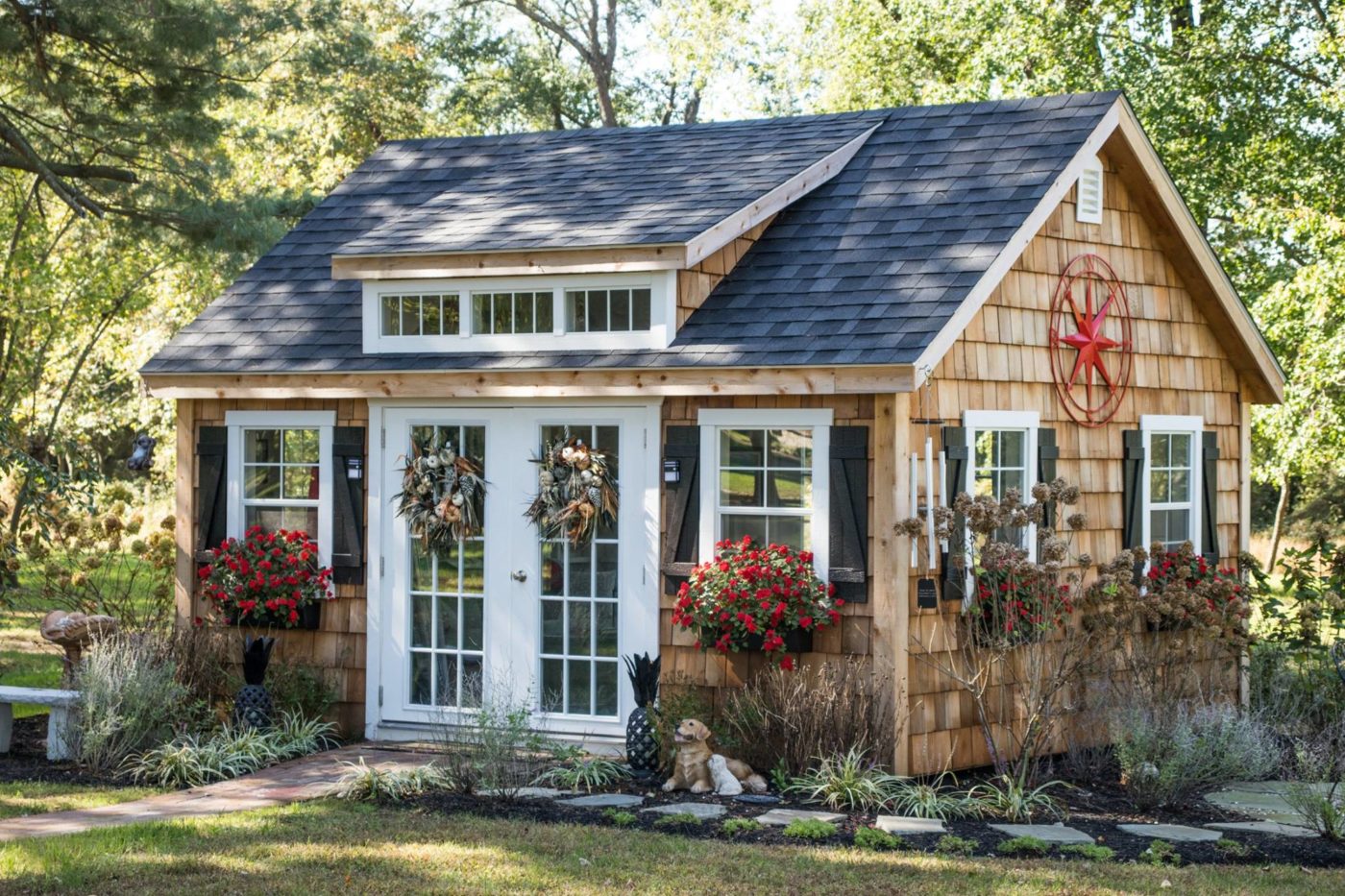 12×16 Premier Garden Sheds $10,975 (Wood)
Pros:
Very beautiful design, steeper roof pitch, great for a shed dormer
Features four 24×36 windows, letting in plenty of light
Cons:
Looking for another sized shed?
We know that not everyone is looking for a 12×16 Storage Shed and as mentioned above, we offer storage sheds as small as 6×6 and even build prefab car garages up to 30×50! A great option for a large space is a 12×30 shed. Create a space for everything you need with this large shed!
Look around and then request a free quote on the size and style building you are looking for.