36 Best Summer Shoes 2022 | Top Sandals & Sneakers for Women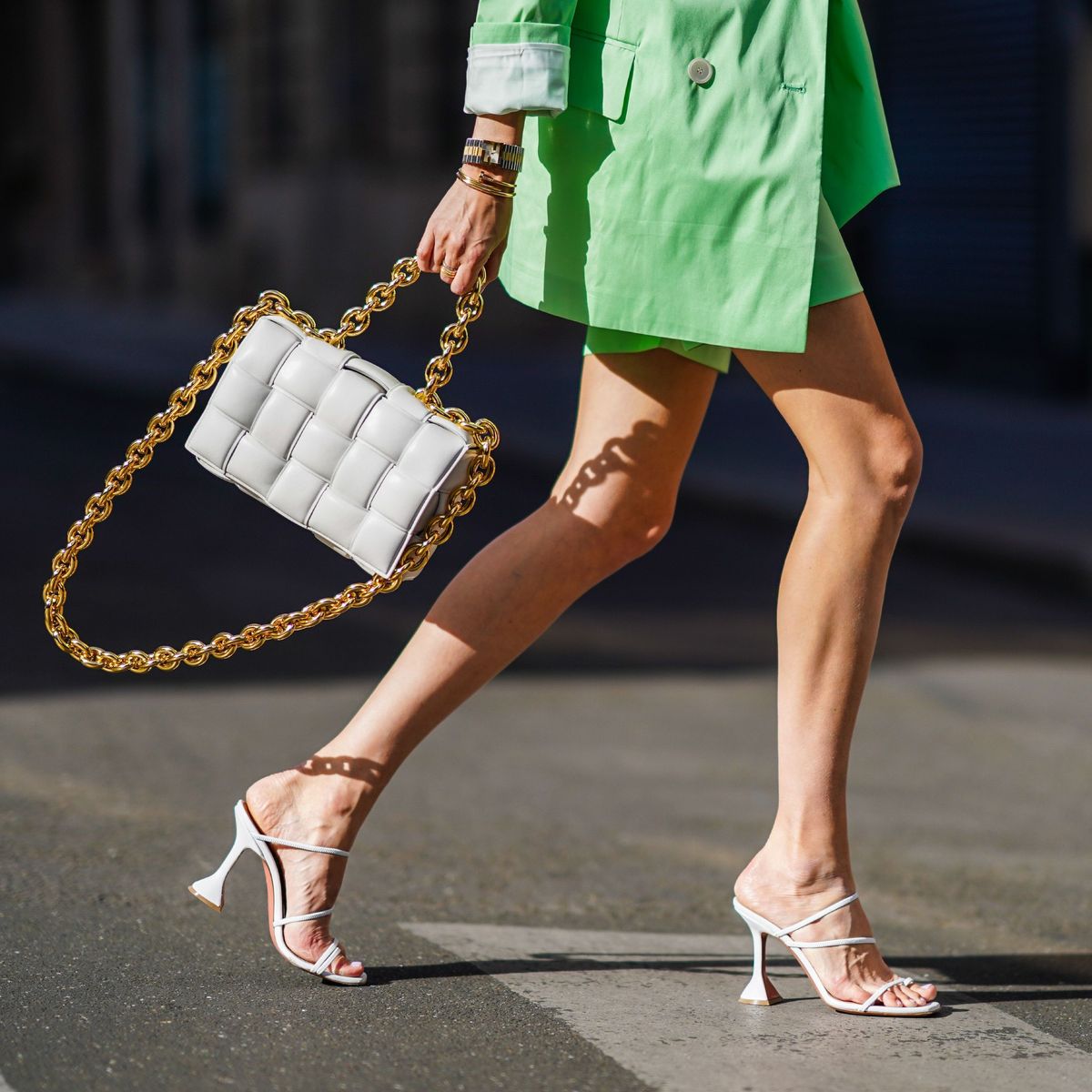 In the era of working from home, socks and slides have found their way into most of our outfits. But with summer on the way, it's time to put your boots and jackets in storage and ready your wardrobe for warmer weather. If you're thinking of buying a new pair (or three), we have good and bad news. The good news is, the time is now; the bad news is that there's more to buy. The spring/summer 2021 runways showcased cool cowboy boots, a continued appreciation for clogs, and an official confirmation that thong sandals are here to stay (a personal '00s favorite of mine). With infinite options on the market, we put together a list of our favorite summer shoe styles to shop now.
A Pair Of Birkenstocks
1. Birkenstock Arizona Platform Sandal
A true marriage of comfort and style, a pair of Birkenstocks will never let you down.
2. Rothy's The Loafer
This slip-on loafer is named "The Cloud" for a reason. Well, partly because of its blue color, but partly because it's so freaking comfy, you'll feel like you're walking on a cloud. Bonus: It's made from recycled water bottles, though you'd never believe it from the way the material feels.
An Old School Sneaker
3. Adidas Rod Laver Sneaker
Out with the new and in with the old? Named after tennis legend Rod Laver, this old-school sneaker proves that fashion is stuck in a time loop.
A Raffia Loafer
4. Tory Burch Woven Raffia Loafer
Tory Burch's SS21 collection was inspired by natural elements found in her childhood home. Using raffia and leather, this one-of-a-kind loafer is perfect for the working woman.
A Unique Sneaker
5. Nike Air Rift Sneaker
A take on the traditional Japanese footwear style, Jika Tabi, Nike's rendition provides the right amount of comfort and uniqueness for those looking for something different.
A Blue Sandal
6. The Attico Fiona Satin Sandals
Looking for a pop of color in your summer wardrobe? Style these satin blue sandals with your favorite summer dress or denim shorts.
A Cushiony Sandal
7. Mango Knot Sandals
A bonus of these cute knot sandals: Hopefully no one ever steps on you when you're in them, but should someone accidentally take a step backwards, the cushion straps will give your feet a little protection.
An Asymmetrical Sandal
8. Jeffrey Campbell Slide-In Sandal
For those chill days where you may want to make a statement without doing too much, a pair of asymmetrical sandals will do the job.
A Pair of Mules
9. UGG + Eckhaus Latta Block Cowboy Mule
UGG collaborated with Eckhaus Latta on a collection of distinctive footwear for those seeking something unique. This mule has a Western-inspired silhouette, so now you have more options to channel that vibe instead of turning to cowboy boots 24/7.
A Fishnet Pump
10. Gianvito Rossi Alisia 105 Pump
Got a hot date? This fishnet pump is equal parts seduction and bad-ass. Go get 'em, girl.
A Caged Sandal
11. Miista Amy Metallic Sandals
Miista never misses, and these cute caged sandals are proof. So strap up and get ready to hit the town!
A Sporty Sandal
12. Sorel Kinetic Impact Sandal
Sorel's Kinetic Impact sandal comes highly praised for that walk-all-day comfort we desire in a pair sandals.
A Western Boot
13. FP Collection Brayden Western Boots
I know cowboy boots may seem intimidating, but in the words of Nancy Sinatra, these boots are made for walking (not really, but they're super cute).
A Minimal Sandal
14. Zara Rolled Strap Heeled Sandals
It's true—simplicity is key.
A Fuzzy Slipper
15. Res Ipsa Babouche Slipper
Get into these Babouche slippers made by Res Ipsa. The name is a translation of the Latin phrase to "the thing speaks for itself" which is totally on brand for these perfect travel leisure slippers.
A Slingback Pump
16. No. 21 Chunky Chain-Embellished Slingback Pumps
There's something so timeless about a slingback pump. This chain embellished detail brings the right amount of edge you need to step on necks this summer.
A Platform Sandal
17. Pêche Frida Slip On Sandal
Established in 2017, Pêche is one of our favorite new brands providing vintage womenswear, shoes, and accessories with a contemporary twist.
A Fishnet Clog
18. Mari Giudicelli Urca Clog
You may not be able to catch fish with these, but you'll surely be able to grab an eye or two in Mari Giudicelli's Urca clogs.
A Thong Sandal
19. FP Collection Haven Thong Flatform Sandals
Wake me up, because we're back in 2000! This throwback staple is back and we could not be happier. Live out your '00s dream and get a pair of thong sandals for the summer.
A Woven Slide
20. Loeffler Randall Sonnie Gingham Sandal
Ditch your athletic slides for something a little more chic with a pair of woven slides.
A Cool Wedge
21. Rejina Pyo Norma Leather Croc Sandals
I know that wedges may seem like a thing of the past, but trust us—a cute wedge on a summer day has never failed any woman.
A Colorblock Sandal
22. Shekudo Tanya Cross Mules
Shekudo does a great job providing stylish shoes while supporting artisans in Nigeria.
A Classic White Sneaker
23. Koio Metro White Sneaker
If designer royal Phoebe Philo were writing this, I'm sure she'd say you can never go wrong with a classic white sneaker for your summer wardrobe.
A Camping Sandal
24. Teva Hurricane XLT2 Sandal
An upgrade from their previous Hurricane XLT, the XLT2 offers more support and cushion comfort for our hiking peeps.
An Abstract Heel Sandal
25. Cult Gaia Effie Heel
Have you ever seen something so ethereal? Neither have we. Get into Cult Gaia's magical Effie heel.
A Ballet Espadrille Flat
26. Chloé Ingrid Espadrilles
Chloe's Ingrid espadrille is an ode to the brand's iconic ballet flat. It's designed with a scallop trim for a summery feel.
A Beaded Sandal
27. STAUD Mona Beaded Slide Sandals
Staud's Mona slide is not just beaded perfection, but just right for when you're on the go.
A Slip On Sneaker
28 Vans Stacked Classic Slip-On
Feeling lazy? Throw on a pair of Vans' classic slip-on sneaker to get you through the day.
An Embroidered Loafer
29. Bougeotte Embroidered Flower Penny Loafers
Noted for their takes on the classic penny loafer, these Bougette embroidered loafers are ideal for a weekend at the beach.
An Embellished Sandal
30. Steve Madden Amie Embellished Slide
For my budget-friendly peeps, Steve Madden always has you covered. Paired with a tank and trousers, these embellished sandals are a must-have.
A Simple Flat
31. Barkal Sky Flat
Great for everyday wear, Barkal's Sky flat comes in a range of funky colors, giving you plenty options to choose from for this summer.
A Colorful Kitten Heel
32. Kat Maconie Gigi Kiwi Kitten Heel
Is this a safe space to admit that we've gone kitten heel crazy? Not only are they perfect for comfort purposes, but they can be worn any time of day, making them one of my favorite go-to summer styles.
A Pastel Heeled Sandal
33. Camper Katie 50MM Sandals
Easter may be over, but pastels are always in. Brighten up your day and someone else's with a pastel sandal!
A Bright Sneaker
34. ASICS Dynablast Sneakers
Whether you're running a marathon or simply going to pick up your favorite latte, these colorful sneakers are sure to light up the way.
A Chunky Slide
35. Kkerelé Nulu Sandal
Designed in Lagos, Nigeria, each sandal is made from hand using traditional techniques to create these chunky sandals designed to last.
A Vegan Flip Flop
36. Sole Rebels Easy Ridin' Comeback Sandal
Handcrafted from tire soles and bright woven fabrics, Sole Rebel's Easy Ridin' Comeback sandal supports their B*Knd series, an initiative created around vegan footwear.