43 Easy Halloween Makeup Ideas | Simple Halloween Makeup Looks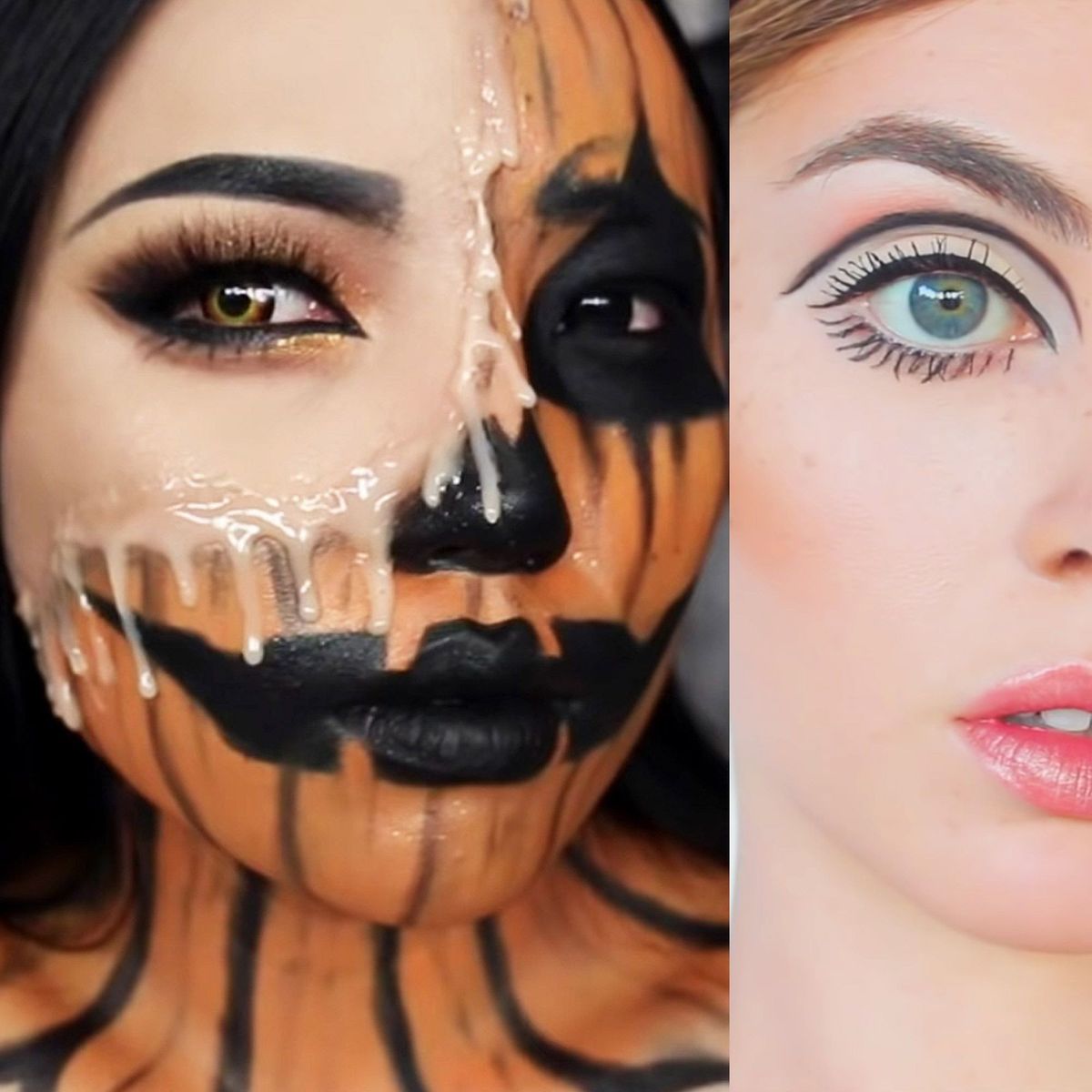 I'm just going to say it: Halloween stresses me the hell out. Sure, I could just throw on a dinosaur onesie and say "screw it" (which is exactly what I did last year), but as a makeup lover, I feel pressured to do at least something glittery, painted, lined, or bedazzled to my face, all in the name of gorgeous Halloween makeup. It's the one time of year where wacky, wild, never-before-dreamed-of makeup looks can be achieved without anyone batting an eye. After all, Lindsay Lohan in Mean Girls said it best: "In the real world, Halloween is when kids dress up and beg for candy. But in girl world, Halloween is the one time of year a girl can dress like a total slut, and no other girl can say anything about it." In this case, "dressing like a total slut" means going wild with glitter and fake blood because you can.
You can always do less for Halloween, and if that's your jam—we salute you. But this year there's a bit of opulence in the air. Can you feel that? And if you're gonna do it—well, why don't you do it all the way? Ahead are the coolest, creepiest and trendiest Halloween beats for the year, with the easiest-to-follow tutorials we could find. If you don't have a steady hand (or an endless amount of free time), enlist a talented friend and ready to ring Halloween 2021 in with a bang.
1. This Monarch Makeup
A steady hand, black liner, and a bit of orange shadow and you're off to the races with this fluttery Monarch look. Also love how it's only on a single side of the face. If you get it right once…why tempt fate?
2. This Glam Clown Look
Another take on a creepy clown—gory-style, with drizzles of blood and slashed cuts topping off a relatively straight-forward beat. (Google #ClownCore for even more inspo.)
3. This Out of this World Alien Look
Want to go full alien without going…full alien? Here's this fix: A neon wash of color along the eyes, sculpted cheeks and Avatar-esque dots above the eyes.
4. This Cyber Punk Look
Calling all hackers—or those drawn to precise and symmetrical makeup. Adding a few structural lines to this relatively straightforward smokey eye makes a big impact with paired with jet black lips.
5. This Cruella De Vil Look
If she doesn't scare you…no evil thing will. A surprisingly simple—possibly no extra materials needed—look with a big impact. Satiny red lips, envious green eyes, and blotted out brows painted up with suspicious swirls.
6. This Sparkly Angel Look
Before you put on your makeshift halo (or the one you grabbed from Party City at the last minute), make your face look heavenly with this angel-inspired makeup look. Above the eyelids, eyeliner looks great on every eye shape and takes just minutes to accomplish. Also, who can pass up an excuse to add sparkly gems on your face? Not us!
7. This Nostalgic Bratz Look 
There are two types of people in this world: those who played with Barbies and those that toyed with Bratz dolls. If you're the latter, pay some respect to the most fashionable group of dolls ever with this makeup look. The lip colors they wear are iconic, so we recommend grabbing a bright hue like Lancôme's Juicy Tubes Original Lip Gloss in Game Berry.
8. This Back In Time Look
As popular as thrifting and leading a sustainable lifestyle is these days, going as a retro '60s babe has never been easier. Just kick it up a notch with this uber cool eyeliner inspired by It-girl Twiggy. Just pick up MAC's Fluidline Eye Liner Gel Blacktrack and get started.
9. This Glam Joker Look 
If you're going as a clown for Halloween, and want to get a little creepy, but not too creepy, this is the look for you. Here, YouTuber Jasmine Brown adds glimmering glimmering face jewels above her eyelids, giving a new spin on the infamous Batman universe evil mastermind.
10. This Queen Look
We love you, Alice in Wonderland, but we are all about the Queens in the Lewis Carroll classic for Halloween this year. The take on the Red Queen is a top-notch makeup-led costume that doesn't take serious skills. Get ready for the compliments to roll on in and to steal a couple of hearts or two!
11. This Greek Goddess Look 
We already know you're a goddess, so it's time to let everyone else see the real you. The show's real star here is the use of a matte and shimmery royal blue eyeshadow together. Arnellarmon used the brand Makeup Geek for her shadow game, but it's not in stock anymore. Luckily for you, NYX has a couple of dupes for around $6 each that are equally divine.
12. This Haunting Ghost Look 
Please step away from the white bedsheet with its handmade holes and towards the dark colors on your favorite eyebrow palette. One of our favorites to use for creations like this is the Kevyn Aucion Emphasize Eyeshadow Design Palette in Magnify ($46). Bonus points if you grab some plastic spiders and clip them in your hair.
13. This Violet Beauregarde Look
British YouTuber Ellie Addis puts good use to the Face Body Paint from IMAGIC ($17) to create arguably the worst child from Willy Wonka and the Chocolate Factory. Unlucky for you, a golden ticket to the factory is not included.
14. This Fluttery Fairy Look 
Life would be a lot better if you could just go *poof*, and your Halloween makeup would be done. But just because you don't have your fair share of pixie dust doesn't mean you can't look like you possess magical powers. YouTuber Nyma Tang's quick fairy look is super simple and proves the color green looks amazing on everyone.
15. This Scary Good Scarecrow
This scarecrow from creator suezochan is not your stereotypical warm-toned guy you usually see in your local pumpkin patch. The usage of light oranges and blues will give you an edge this Halloween without having to pull out all the stops since she recommends going more messy than proper when applying the makeup. You can use whatever eyeshadows you have at home or go all out and use the Morphe x James Charles Artistry Eyeshadow Palette ($39) from the video.
16. This Out There Pop Art Look
Go outside the box this Halloween and turn heads with this pop art makeup look from creator MaggieA. No fake blood is required for this. All you'll need is a trusty eyeliner and a serious amount of face paint. Like Maggie says, just remember that when it comes to putting the dots on, you'll want to clean it up with a q-tip.
17. This Wednesday Addams Look
You can't properly celebrate October 31st without giving some love to the Addams family, Wednesday in particular. Her nonchalant attitude and signature braided pigtails make choosing her for a costume a breeze. Just don't forget a black glossy lip like NYX's Butter Gloss in Blackberry Pie ($7), and you'll be all good to go.
18. This Dreamy Butterfly Look
This butterfly look puts the "wing" in "winged eyeliner." (Ha! See what I did there?) In order to get a similar fluttery look like Agnes Agustin's, you're going to need a top-tier liquid eyeliner like the ever so fabulous Lancôme Artliner Precision Point Liquid Eyeliner ($30). It's specially shaped tip will glide with ease giving you no hassle wings in no time.
19. This Glittery Unicorn Look
The limit does not exist for how much glitter you should use this Halloween. If you need a little push, just look at how fantastic YouTuber Alex Faction's eyebrows look in this totally easy Unicorn tutorial. He uses a pale purple shade from Star Crushed Minerals, but we recommend using Urban Decay's Moondust Eyeshadow ($22) in Intergalactic for an even cooler effect.
20. This Space Cowboy
Kacey Musgraves hive, please rise, it's our time to shine. This costume is truly the best of both worlds: on one hand, you have a Western glam cowboy, and on the other, you have an out-of-this-world alien. Therefore, there's no better time to go all out. Use those forgotten glittery eyeshadow shades to bedazzle your eyes, then swipe on an intergalactic shiny lipgloss like Stila's Beauty Boss Lip Gloss in Payday ($15) and get going!
21. This 'Euphoria' Glitter Tears Look 
The addictive HBO show Euphoria is known for its over-the-top makeup looks by head makeup artist Doniella Davy. Stand out from the crowd and step away from the face jewels with this glitter tears look from the show's Halloween episode. Feel free to go Jules-style with the glitter, which means the limit does not exist.
22. This Devilish Eye Makeup Look
Whether you're partnering with an angel for Hallow's Eve or going solo, don't just throw on horns and call it done! Go outside of the basic box or, in this case, above your eyebrow and add a little something extra. Draw on your pointed horns using ColourPop's BFF Liquid Liner in Bright Red ($8). Alternatively, if you have a red lipstick lying around YouTuber An Knook recommends using that and applying it with an eyeliner brush for precision.
23. This Jojo Siwa Rainbow-Loving Queen 
If you're not familiar with the 16-year-old, multi-millionaire, enigma that is JoJo Siwa, think rainbows, dance, and all the drama. Sija's stardom sparked on hit show Dance Moms, and since then she's gained a loyal fan club, including North West. To channel the teen star, douse your eyes in vivid splashes of color. Pull out those dusty neon palettes you never use, or pick up Anastasia Beverly Hills Norvina Vol. 2 Mini Pro Pigment Palette ($29), and use a blending brush to create a technicolor party on your eyes and cheeks.
24. This Melted Pumpkin
Is it even Hollywood if you didn't try a Promise Phan YouTube tutorial? For seven years, she's been blowing everyone away with her next-level, trippy recreations. Though she claims this melting pumpkin is beginner-friendly because it doesn't require a lot of products or time. All you need are these super-cheap wet n wild Fantasy Makers Multisticks, which are $3 a pop.
25. This Glamorous Masquerade Mask
Your Halloween plans may not involve a fancy masquerade ball, but that doesn't mean you can't channel your inner royalty. This 15th century mask is made for the ultra glamorous queens who want to win best Instagram photo of spooky season.
26. This Grunge Salem Witch
You've already seen this look all over the fashion week SS2020 runways last season, so why not spin it for Halloween? A smokey eye is simple enough, and top off the grunge Euphoria touch with Milk Makeup's Tattoo Stamp in a star ($12)—it comes in a peace symbol, heart, and ying yang shape too.
27. This Badass Purge Look
Sure, you may scare the shit out of everyone as a purger, but where's the fun in Halloween without a little fright? This look is seriously so easy, and will require 10 minutes tops with a steady hand for tracing shapes and outlines.
28. This Batsh*t Crazy Babydoll
How freaky is this scary-sweet beauty look? What stands out the most is this bright white liner. To get your liner to look extra snowy, combine MAC's bestselling Pure White Chromaline with Makeup Geek's White Lies Eyeshadow for a ice-white finish.
29. This Spider Liner Look
Put all those liquid liners you have sitting around to good use to create this creepy-crawly eye. This badass eye is seriously so easy to do yourself—you just need patience. Chill out on the caffeine this day, too, because you'll need to free-hand stroke lines across your lid and a shaky hand won't be much help. Add fanned-out lashes for some drama.
30. This Smoky Skull Look 
Remember in the early 2000's when everyone and their mama wore a smoky eye? Well, this Halloween you can bring the smoke back with this sultry skull look. It's the ideal last-minute lewk that requires a few straight lines for a stitched mouth effect and a simple smokey eye. Use a medium-size, fluffy eyeshadow brush to make blending a breeze.
31. This Poison Ivy Look
Nothing screams Halloween like an over-the-top brow moment. Recreating poison ivy is the perfect excuse to scribble a bright green all over your brows because why not? YouTuber Charisma Star goes away from the usual greens of the iconic Gotham and gives it a new twist with red and yellows.
32. This Wonder Woman Look
This look is mainly just the ridiculously pretty makeup (hello, shimmery golden eyes) that Gal Gadot has in Wonder Woman, so you can wear it to work during the day, then slip on your golden headband at night to transform into DC Comic's best superhero.
33. This Princess Shuri Makeup From "Black Panther"
If you want to rep Black Panther this Halloween, this dotted, spotted, and neck-decorated variation will make you stand out from the Wakanda crowd.
34. This Floating Head Costume
With just a few tubes of liquid lipstick, you can finally lose your head in an Instagrammable way. Just make sure to stand in dark corners for the ultimate trickery.
35. This Crazy-Simple Cat Woman
Reason why a painted eye mask is 100 percent better than a store-bought plastic mask: You won't want to rip it off your head 30 minutes into the night—which means you'll never be left looking like a basic bish with cat ears.
36. This Surprisingly Adorable Bear
So cute and cuddly, you'll be fending off hugs from strangers (so, like, you've been warned. I suggest also strapping on a sign that reads "LOOK, DON'T TOUCH" while you're at it).
37. This Ethereal Mermaid Look
Listen, mermaids will never not be cool (just ask Tom Hanks and Daryl Hannah), so embrace your inner merperson with some light glitter, rhinestones, and iridescent scales.
38. These Scratchy Vampire Eyes
Technically, this is just what I look like IRL during allergy season. Make it even scarier for Halloween by adding some red novelty contacts and a thick, smudgy, smoky eye.
39. This Super-Cute Fawn Makeup
I mean, sometimes you just want to look ridiculously cute on Halloween—I get it. Behold: This fawn makeup, which uses fake lashes and strategically placed eyeliner to make your eyes look in-the-headlights huge.
40. These Spiderweb Eyes
"But all of these look are still too hard!" you cry. I hear you, I see you, and I raise you this truly easy spiderweb look. If you can hold a pencil, you can draw a web on your face.
41. These Candy Corn Eyes
I mean, you can't have Halloween without candy corn, right? This look uses a gradient of white, yellow, orange, and red to create a bright—yet not at all gaudy—statement eye.
42. This Relatively Disturbing Clown Look
Sexy clown? Scary clown? Sexy scary clown? This look has it all! Pop in some white contact lenses for next-level creepiness, and invest in a good lip primer to keep those ombre lips from fading.
43. This Faux-Mask Mask
Don't let the photos fool you—this faux mask is really just the result of a zillion haphazardly sketched lines and crystals. Layer on a black lipstick, and you've got yourself a costume.
…
For more stories like this, including celebrity news, beauty and fashion advice, savvy political commentary, and fascinating features, sign up for the Marie Claire newsletter.
subscribe here