Amazing mansion in the Yellowstone Club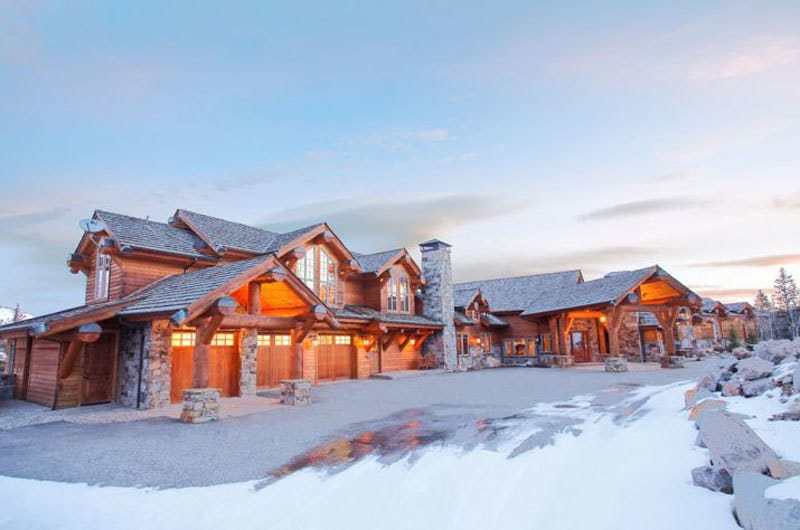 This magnificent mansion can be found near Big Sky, Montana, and was recently put to sale through Concierge Auction, with reserve on the 18th of February. It is in fact one of the first residences to be built within the exclusive Yellowstone Club and perfectly reflects the meanings of luxury and opulence high in the mountains.
A 15,500 square feet paradise for rich skiing enthusiasts, it is located on Andesite Mountain and shares breathtaking views of the local mountain range. Furthermore, the residence also provides direct access towards more than 8,000 acres of skiable terrain. The construction was finished back in 1999 by Tim Blixseth, famous timber magnate, and his, by then, ex-wife Edra.
It is housed by the Yellowstone Club, which covers 13,600 acres of land, boasts a private ski area accessible by lift and costs $250,000 to join. Unfortunately, the recent financial crisis has hit the club pretty hard, having put it into bankruptcy in 2008. The Blixseth family was subsequently accused of pocketing a few hundreds of millions of dollars, amounts thought to originate from the club's real estate.
This particular property is situated among the northwest corner of the Yellowstone National Park, at 26 Obsidian Road. It comprises a total of 12 bathrooms and 8 bedrooms, overlooking the mountain range. In addition, it is completed with extraordinary amenities like 5 majestic fireplaces, a palatial master suite and lavish entertainment areas decked with polished cherry wood.
The builders have also garnished it with superb finishing touches like an African mahogany table which can accommodate 14 people, an antler chandelier, hand-picked moss rocks and ancient logs. And if you take in consideration the other interesting stuff this property was fitted with, it really becomes a staggering residential spot.
We should definitely mention the kitchenette, full ski room with vertical shoe rack, open air lockers and shelving, a state of the art gourmet kitchen, fitness room, plush leather furniture, a garage that can easily accommodate three cars, a secondary machine garage which can also work as storage facility, heated deck wraps around the mansion's back side, a 12 person hot tub, elevator and a massive den with pool table and game tables.
The President of Concierge Auctions, Laura Brady, describes: "Having successfully sold another home within the Yellowstone Club and three in nearby Spanish Peaks earlier this year, we're thrilled to be back in the area. We work with the most motivated luxury sellers in the country to present rare and unique opportunities to discerning buyers who value the utmost in quality and amenities.
Because 26 Obsidian is such a significant property, we are offering prospective buyers plenty of time to visit the estate and conduct their due diligence before the live auction in February." The price you're probably seeking now is $28 million. Quite a stunner, isn't it?
[Extravaganzi]