Can You Wear White After Labor Day? | Labor Day Fashion Rule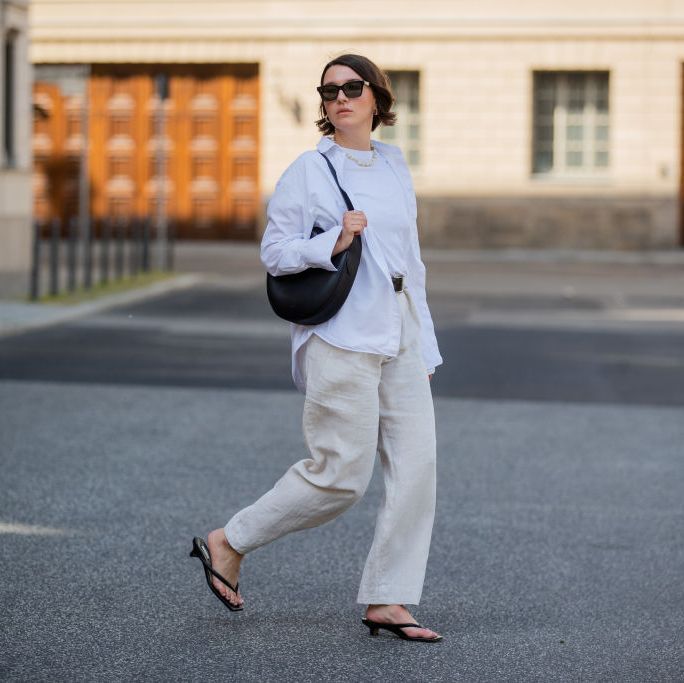 Before you know it, you'll be packing away your sundresses and summer sandals to make room for chunky sweaters and over-the-knee boots. But do you need to ship your cream-colored skirts and ivory pants off to storage? Yes, we're referring to the age-old question, "Can I wear white after Labor Day?" The short answer: Yes! In fact, the story behind this arbitrary dress code is…unconvincing, not to mention classist.
The History of Not Wearing White After Labor Day
In the late 19th century—long before you could wear jeans to a Michelin-starred restaurant—the society ladies were engaged in an invisible battle with the nouveau riche, one that could only be won by the subtle manipulation of fashion. The "you can't wear white after Labor Day," rule was created to separate the old money elitists from the new money group.
"It [was] insiders trying to keep other people out," according to Valerie Steele, director of the Museum at the Fashion Institute of Technology, in an interview with Time, "and outsiders trying to climb in by proving they know the rules."
For those who had money and could leave the city during warmer months, white was considered vacation attire. "If you look at any photograph of any city in America in the 1930s, you'll see people in dark clothes," Charlie Scheips, author of American Fashion, has said. Meanwhile, white linen suits and Panama hats were considered the "look of leisure."
The Other Theory About the "No White After Labor Day" Rule
Some etiquette authorities like Judith Martin, rebuff this class theory, with Martin saying to Time: "There are always people who want to attribute everything in etiquette to snobbery. There were many little rules that people did dream up in order to annoy those from whom they wished to disassociate themselves. But I do not believe this is one of them."
The true reason could be much simpler: After Labor Day, the first Monday of September, became a federal holiday in 1894, it came to mark the end of summer. Vacationers packed away their breezy white dresses and linen button-downs in favor of darker-hued clothing, like navy suits and gray sweaters. "There used to be a much clearer sense of re-entry," explained Steele. "You're back in the city, back at school, back doing whatever you're doing in the fall—and so you have a new wardrobe."
Regardless of how this subjective rule really came about, no one in 2020 should feel the need to follow it. (I'm a fashion editor and I wear white year-round, thankyouverymuch.)
Ahead, shop some white pieces to wear on or after Labor Day Weekend—because you can do, and wear, whatever you please.
Leset Zoe Cropped Wool-Blend Sweater
NANUSHKA Valerie Ruched Shoulder Bag
L'AGENCE Nancy Bouclé-Knit Skirt
Shereen Ruched Block Heel Mule
Leslie Amon Ribbed Jersey Dress
Staud Leather Ankle Boots
Alex Mill Easy Ruffle Shirt in Paper Cotton
Tory Burch Lee Radziwill Petite Bag