How to Do a DIY Pedicure at Home in 4 Easy Steps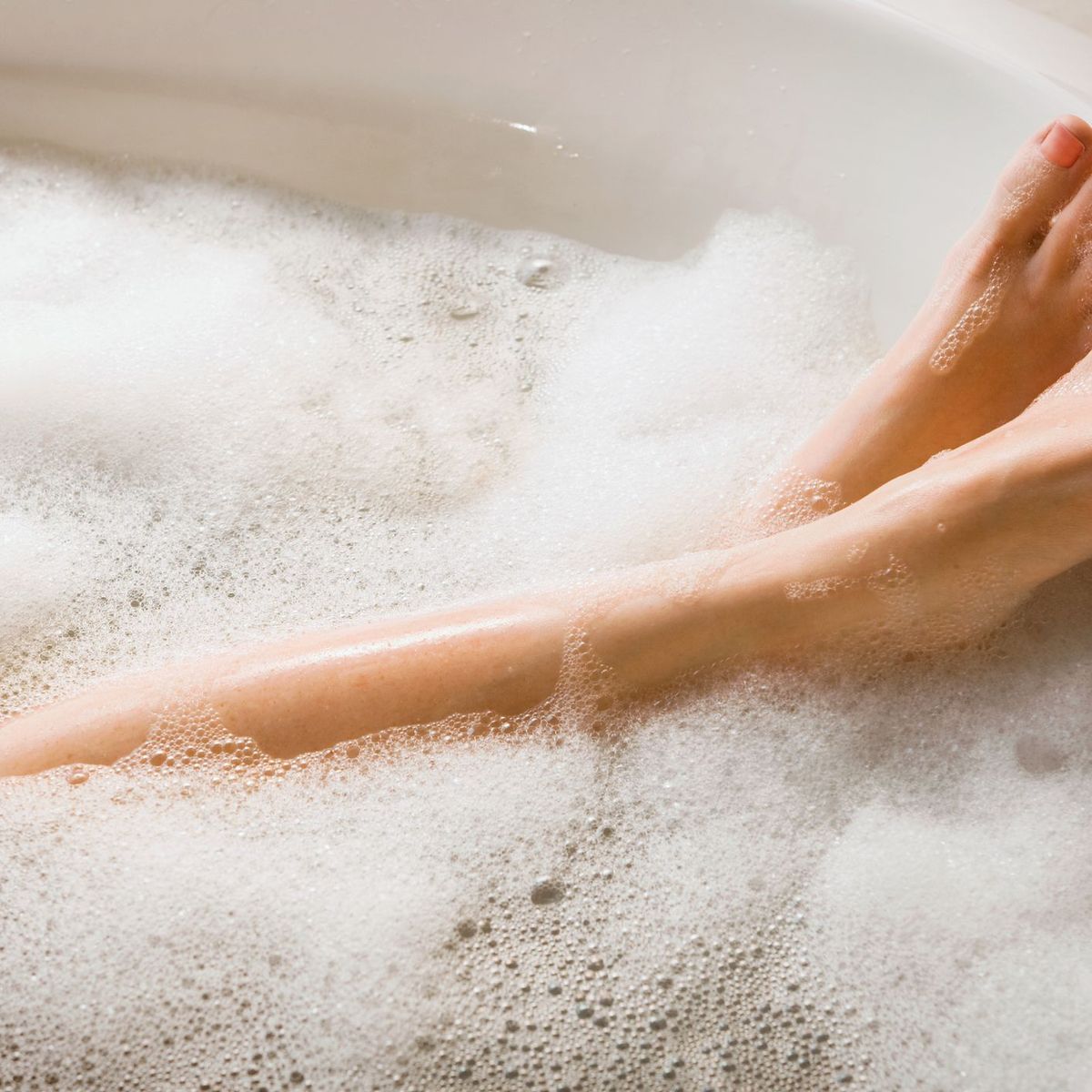 Ask anyone and they'll tell you: I hate feet. I don't necessarily hate all feet, but mine in particular are easy targets for shaming. In the summer, I wear boots. At home, I wear socks. I don't even look at open-toe shoe options when I'm shopping. Toes and feet should just stay where they belong: hidden in some stylish chunky sneakers—I'm just sayin'. But every now and then, I have no choice but to expose my pale, dusty piggies to the world. So, since high school, this has been my routine: As one of those outdoor events approaches, go to my local salon and get a pedicure. Leave the pedicure on for as long as humanly possible. When the next beach/pool/feet party comes up, check the state of my toes again. If the polish is still 80 percent there, continue. If not, rinse and repeat.
I'm yearning for that smooth, cared-for feeling a really good pedicure will grant you, but sadly I can't pop into my local salon right now and ask for their strongest, most-lasting nail polish. I know I'm not the only one. So here we are: Trapped at home with our toes. If you're not comfortable heading to your local salon, it's possible to get a professional-looking pedicure without stepping one toe outside. For the best tips and tricks, read on.
Step #1: Prep Your Feet
Just like your face, think of foot preparation in these familiar terms: cleanse, exfoliate, and moisturize. The order is up to you—it all depends on your preferred level of exfoliation.
Tip #1: For those who wish for just a light scrub, cleanse and soak, go right ahead. However, if you're like me and enjoy scraping large amounts of skin and calluses off, doing this step before your feet hit the water is important. Water softens the skin, so if you're too heavy-handed, your feet can fall subject to excess exfoliation.
For optimal cleansing and soaking, remove any existing nail polish, fill a bathtub or bucket with warm water and add some nice skin-softening products, like lovely-smelling epson salt you can shop below. After a few minutes of soaking, dry off your feet and follow up with a physical exfoliator, like a buffing block, to scrub off flakey bits and calluses. Afterwards, lather on a moisturizer and maybe even throw in a quick foot massage to give your feet the works.
Dr Teal's Lavender Epsom Salt
Oneleaf Professional Pedicure Rasp Foot File
Kiehl's Creme de Corps Soy Milk & Honey Body Polish
AmLactin Foot Repair Foot Cream Therapy
Step #2: Beautify Your Toes
Before you pull your polishes out, it's time to hydrate, shape, and trim to get your toenails in tip-top shape. Just like if you're giving yourself a DIY manicure, having a powerful cuticle oil is crucial for getting the feet of your dreams. Using a Cuticle Pusher ($5), work the oil into your nail beds to give yourself plenty of space to paint on your summer color. After you're satisfied, it's time to break out a nail kit and get to work. Make sure your kit is equipped with a nail file and clippers for you to shape and trim your nails if you've acquired more length than you'd like.
Tip #2: Be sure to file in one direction rather than using a back-and-forth motion to avoid causing damage that can wreak weaker nails and result in breakage.
Shop These Toe Beautifying Products
Deborah Lippmann Exfoliating Cuticle Nail Treatment
Elon Lanolin-Rich Nail Conditioner
Tweezerman Mini Manicure Kit
Zwilling J.A. Henckels 3 Piece Pocket Set
Step #3: Pick Your Color
Our poor toes go through a lot. Whether that's recovering from being shamed their whole existence, like mine, or being squished into shoes and made to walk long distances without proper care. That's why we should reward them with all the tender love and care, along with mood-boosting, fun nail colors. But before you start painting, choosing a nice base coat is essential for preventing staining and making sure your color remains un-chipped with all the wear and tear our feet go through.
After letting your base coat dry, you can paint on a vibrant color. Normally I'm a dark, moody, or nude-polish kind of girl, but even I have to admit that a bright pop of color makes me more cheerful. This might be the time to try out a color you don't normally gravitate towards. After all, even if it clashes with the sweatpants you've been wearing every day, it's not like you're showing them to the world.
Tip #3: Let base coats and each coat of color dry fully before continuing. This will ensure a long-lasting, perfect-looking pedicure.
I normally squish toilet paper between my toes to make sure they don't touch each other when I'm applying color, but you can also find some low-cost toe separators if you want to save your toilet paper. Let your color dry in between layers until you reach the level of opacity that you're aiming for. For lighter colors, this might take three coats.
Finally, finish off with a top coat that will protect your style and make it last. Read a book or play Animal Crossing (isn't that what the kids are doing now?) until you're totally sure they've dried. As tempting as it might be, try not to touch your toes to avoid smudging all your hard work. Soon enough, you'll be able to flaunt your fresh pedicure, even if it's just on FaceTime.
Shop These Summer Colors
OPI Natural Nail Polish Base Coat
CHANEL Longwear Nail Colour
Orly Breathable Treatment + Color
Dior Gel Top Coat
Step #4: Keep Your Nails Healthy
The trick to making sure your feet are in the best shape is constant care. As much as I personally like to forget my feet exist, there are a few low-maintenance ways to keep them healthy and ready for your next at-home pedicure adventure.
Sadly, even after all your hard work, it's critical to remove nail polish to allow your toes to breathe every now and then. When you have a week of low toe-exposure, take off your nail polish (even clear polish!) and let your natural nails have their moment.
Tip #4: When nails aren't properly oxygenated, they can stain yellowish and look less appealing. That's why it's important to remove all polish every now and then.
Additionally, when you shower give your feet some extra love with scrubs, foot treatments, and a post-cleanse moisturizer—check out my picks below. If hand cream is all you've got, here's a hack: Slather on a hand cream, slip on some socks, and let your feet soak in hydration. This maintenance keeps them pedicure-ready. You can also practice some self-love and apologize for shaming them on the Internet, though maybe that's a personal problem.
Try These Upkeep Products
Tenoverten Rose Polish Remover
Fresh Feet Feet Scrubber
Lush Volcano Foot Mask
BYREDO Rose Hand and Nail Cream