How to Get Google Drive Extra Storage for Free
How much storage is available on your Google Drive
Generally, Google Drive automatically comes with 15 GB of storage space for free. With this Google Drive free space, you can back up your Gmail attachments and photos, or even upload files from your computer's hard drive that you want to store and share. Meanwhile, if 15 GB doesn't meet your storage needs, Google offers additional storage via its Google One subscription-based service.
Can you get extra storage in Google Drive for free?
15GB seems to be a generous amount, however, it is shared among three Google's programs including Google Drive, Gmail, Google Photos. This means all the messages in your Gmail inbox, plus the files saved in Drive folders, chip away from that 15GB of space. Therefore, the 15GB of shared space will be run out quickly.
If you check how much free storage on Google Drive and find that your Google Cloud storage is going to fill up, you do not need to upgrade Google Storage plans in a hurry, you can go through some methods to optimize your storage and get extra storage beyond the initial 15GB for free.
How to increase Google Drive storage for free
Here are some methods with detailed steps that you can go through each so often to optimize your storage and get more storage in Google Drive without buying extra storage. If the methods to break the Google Drive free storage limit still cannot meet your requirement or you don't want to delete anything in your drive, you can turn to the bonus tip to get extra storage in Google Drive beyond the initial 15GB via CBackup.
Way 1. Free up photos storage
In fact, every photo and video backed up to Google Photos in original size will count against your Google storage. But Google will offer you free unlimited storage if you back up photos and videos in "High Quality" mode, which compresses images down to 16MP and videos to 1080p. Therefore, you can free up much space by converting those original size photos and videos to "high-quality" mode.
1. Go to the Photos settings page, and select High quality (free unlimited storage).
2. On that same page, click the Recover storage button. That'll compress your existing photos and videos and remove them from your Google storage quota.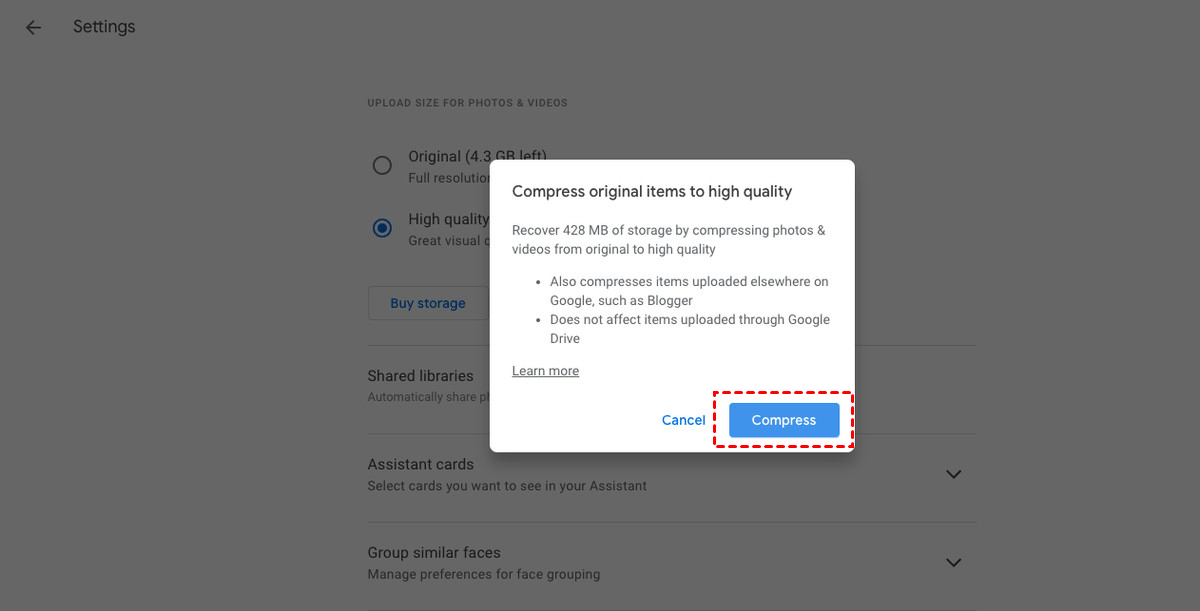 ✎Note: Starting from June 1, 2021, any new uploaded photos and videos will count toward your Google Drive quota.
Way 2. Use Google's own file formats
Supporting you to upload files in their original format without having to convert them is a merit of Google Drive. But if you want to increase Google Drive space for free, you should store documents in Google's own file formats i.e. Docs, Sheets, Slides, Drawings, etc. because Google gives free unlimited storage for these formats.

When other people share Drive content with you, that content doesn't occupy any of your storage space unless you choose to add that content to your Drive. If you want to save space, don't download shared files to your own Google Drive unless you absolutely have to.
Way 4. Empty Google Drive trash
When you delete files in Google Drive, they don't initially delete forever. They get sent to the Trash where they can sit and accumulate. Over time, they add up and unnecessarily use up storage. Be sure to head into Trash and permanently delete files you don't need anymore.
1. Open Google Drive and click on Trash in the left sidebar.
2. Click on the arrow next to the word Trash and click on Empty trash.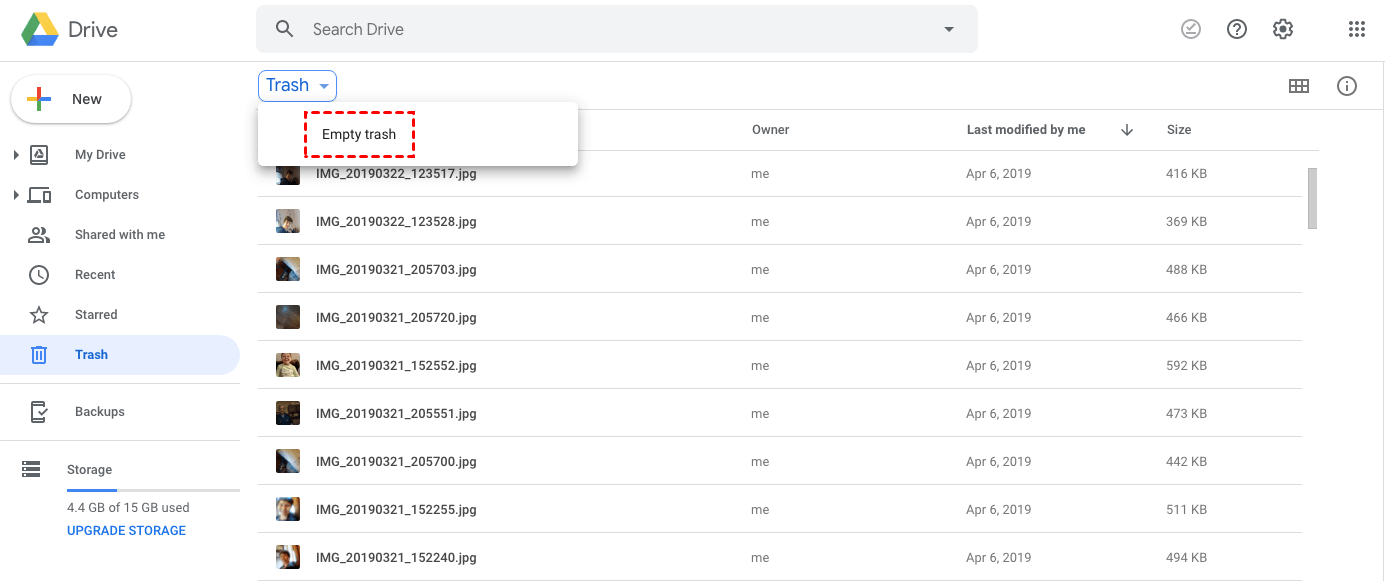 Way 5. Clean up Gmail
Emails don't take up a ton of space, but attachments do. Cleaning up your Inbox, Spam and emptying your Gmail Bin is an excellent way to free up Drive space. To remove unneeded emails with large attachments:
✎Note: If necessary store the attachments in Google Drive.
1. In your Gmail search bar, type "has:attachment larger:10M" without the quote marks, then click on the Search icon
2. Select the emails you don't need and click Delete.
3. In the left sidebar (the one where you have Inbox, Sent, etc.) click on More and click on Bin.
4. At the top of the Bin page, click on Empty Bin now and confirm your action.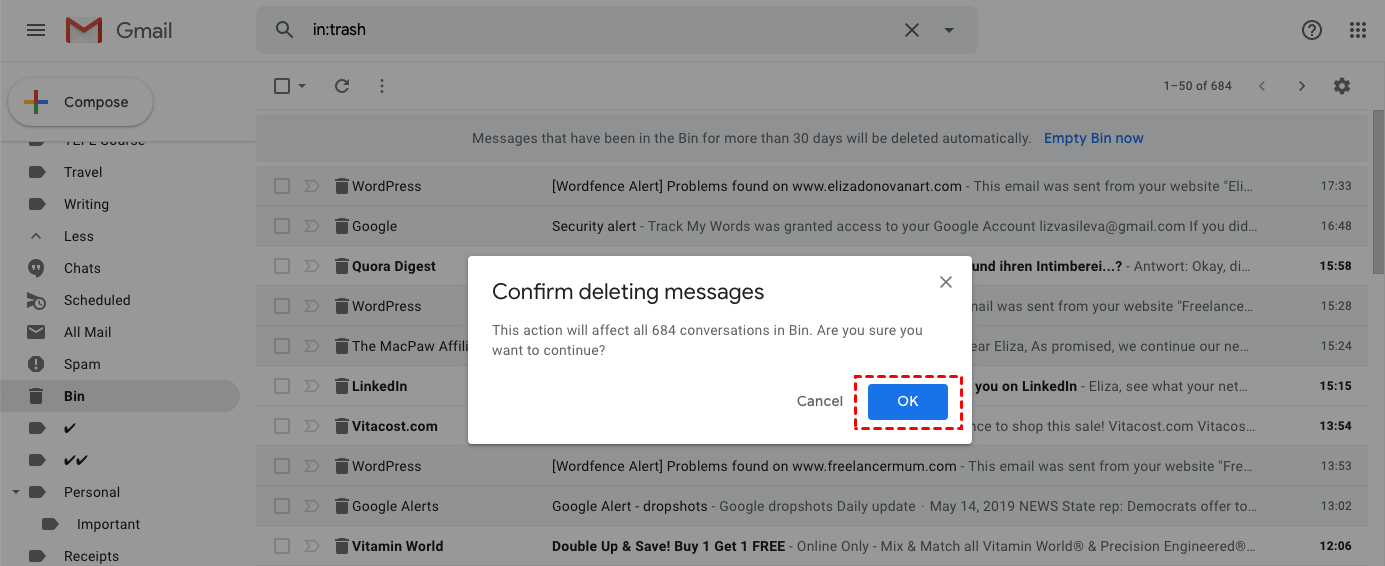 Way 6. Delete duplicate files
When you use Google Drive to store files, you may have many duplicates accidentally, and these duplicate files may take up your valuable storage. So, the thing you should do is check your f Google Drive storage for duplicate files. Doing that can help you free up a hefty amount of space.
1. Open your Google Drive account. Click List View on the upper right corner.
2. Now, all your files are listed here. Long press the control key and click all useless replicas, which start with "Copy of…" or have the same name and a number in the brackets.
3. Right-click any of the selected file and click on Remove to delete all selected duplicate files at once.
4. Remember to empty your trash after deleting.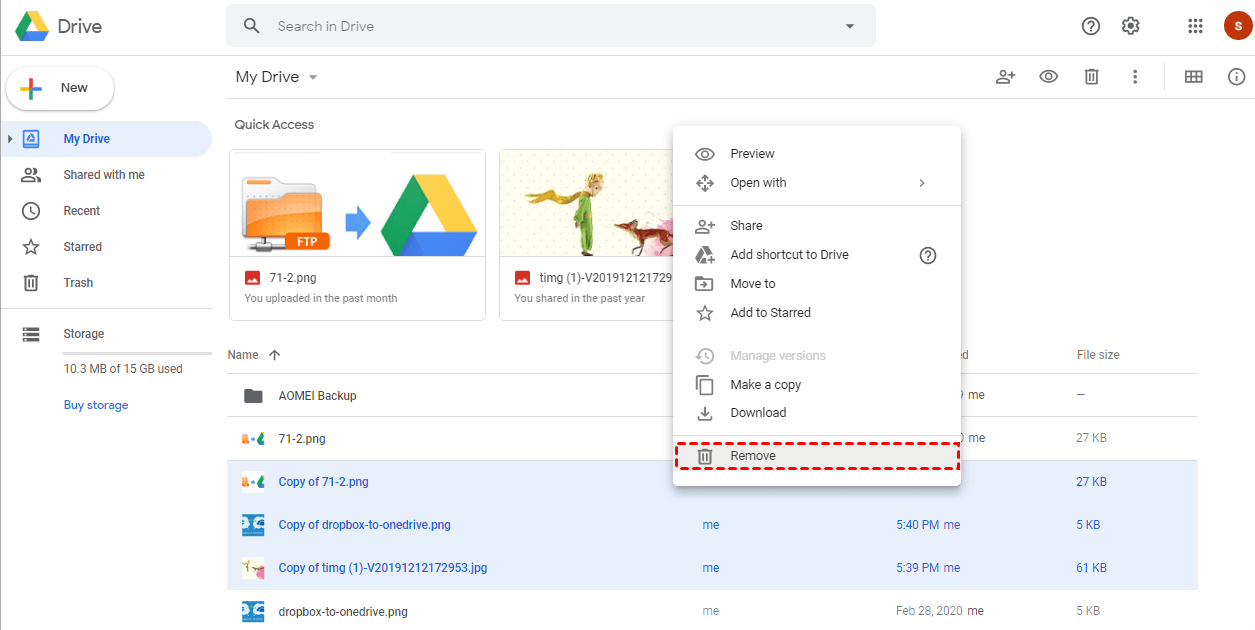 Way 7. Delete useless large files and drive debris
After a long period of use, chances are that you're storing quite a few outdated files you could safely delete. You can review what you have on your Drive and delete the files, especially some large files, you don't need anymore. In addition, apps associated with your Google Drive storage can sometimes have hidden data, but all it takes is a couple of clicks to remove it.
1. open https://drive.google.com/drive/u/0/quota in your browser. The largest files will be at the top of the list.
2. Look through the files and delete anything you no longer need.
3. Click the gear-shaped icon in Drive's upper-right corner, and select Settings, followed by Manage Apps.
4. For any apps that have a note about hidden data, click the gray Options box to the right and select Delete hidden app data.
5. Empty your trash.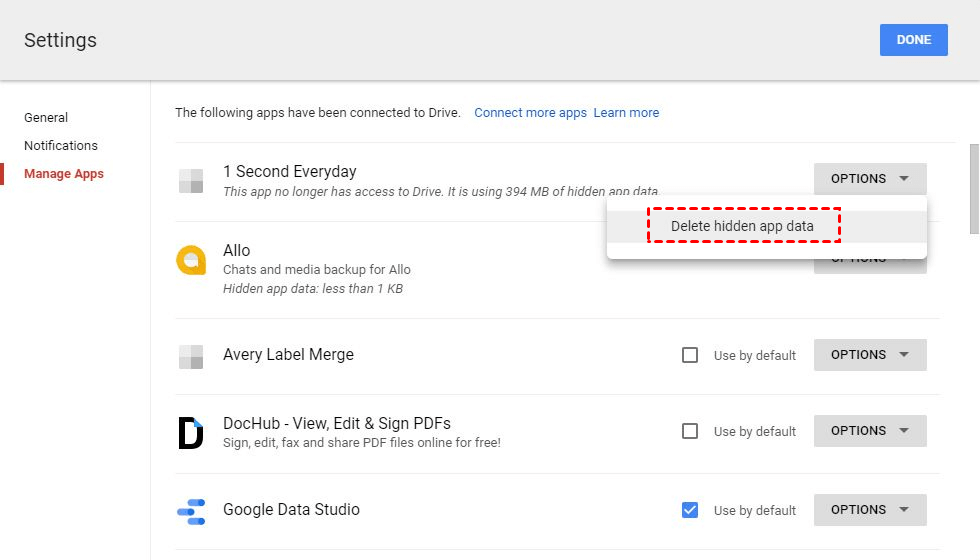 Way 8. Wait for Google Drive giveaway and promotions
You can get free giveaways from Google Drive from time to time, especially on big occasions. For example, Google gave a free 2GB of drive space to users who improved the security of their Google accounts in 2016.
Bonus tip: how to get Google Drive extra storage above 15GB?
Since a Google Drive account provides 15GB of Google Drive free storage, registering multiple google accounts and merging multiple Google Drive accounts into one can increase Google Drive space for free and let you protect more files. To achieve this aim, you can rely on a professional cloud service like CBackup.
CBackup is a professional online cloud backup tool that allows you to combine free cloud storage accounts owing to one or different cloud drives without paying any fee. You just need to create a CBackup account and add your cloud storage accounts. Then, with a proper strategy, all free space of connected clouds can be combined into a huge, even unlimited space to store the backup files.
This cloud storage combination feature in CBackup is totally free and it supports many cloud storage like Google Drive, OneDrive, and Dropbox. Therefore, you can sign up for multiple Google Drive accounts and add them on CBackup so that you can combine all of their free storage space into a huge backup space above 15 GB. The more free Google Drive accounts you have, the bigger backup space you will get.
1. Download CBackup and create a new CBackup account, and then sign in to CBackup desktop app.
2. Click My Storage on the left side, and click + Add Cloud button, then choose Google Drive and hit Add. Then follow the on-screen guide to allow CBackup to access your third-party cloud storage's files.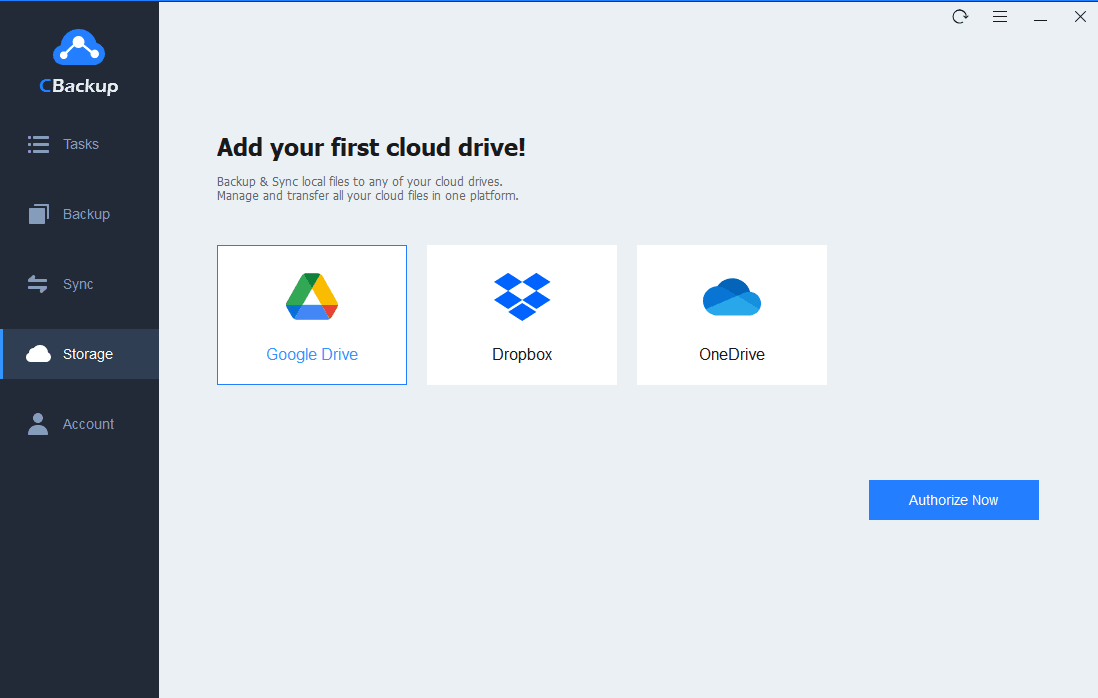 ✎Note: To add multiple Google Drive accounts, please repeat the above steps (step 2 and step 3). And you'd better change the default name to a unique one to distinguish.
3. Then you could see the multiple clouds added to CBackup. Click the My Storage + button, you will see a New Combined Cloud option in the menu. Click it.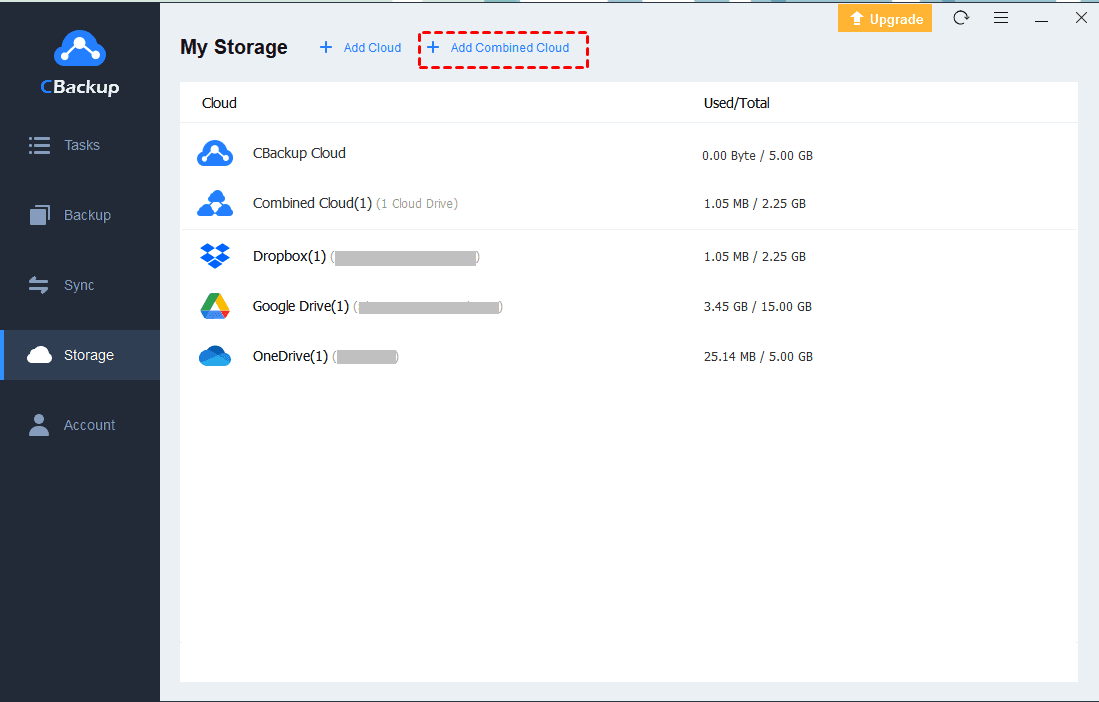 4. Choose all the Google Drive accounts that you want to combine.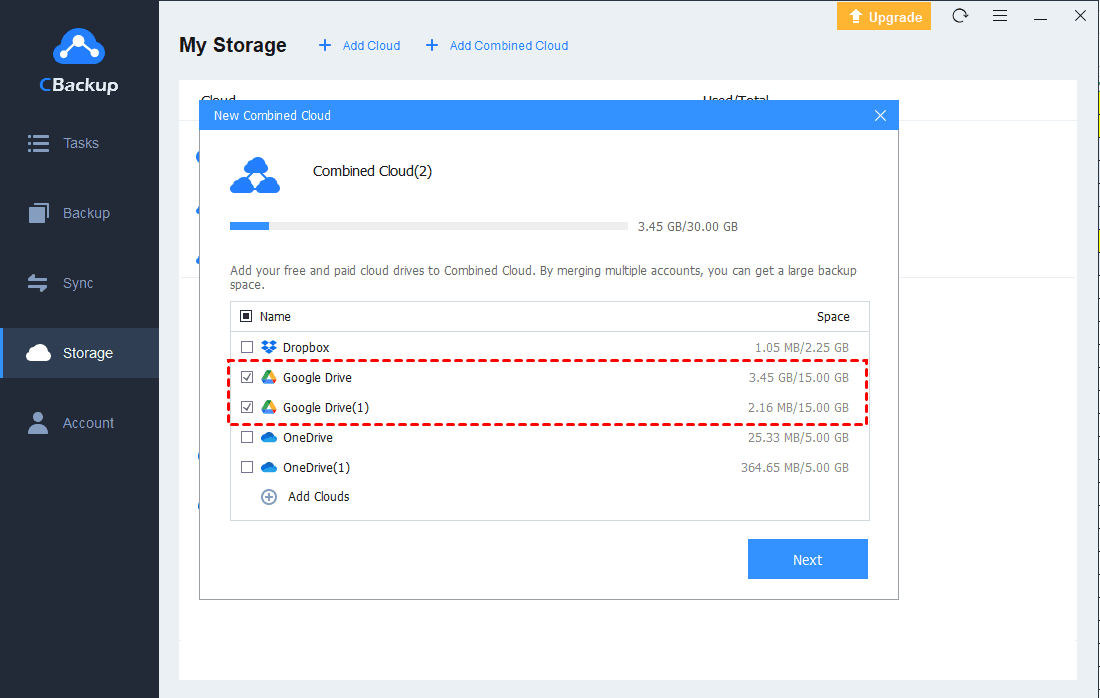 5. After the combination, you will have a huge backup space for all your data. When you choose your backup destination, you can choose the huge Combined Cloud as the backup destination.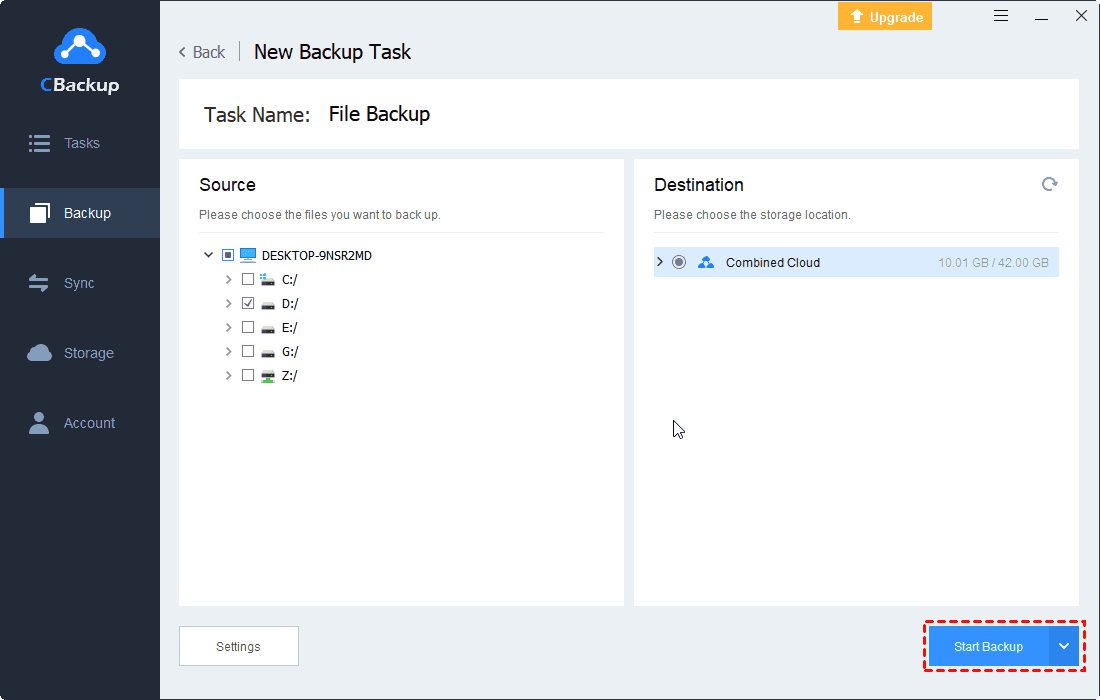 ✎Note: And you can enjoy following useful backup settings before clicking the Start Backup.
☛You can set up a scheduled backup task to automatically backup your files to this combined cloud.
☛You can exclude part of files types to save your backup time and backup space in the target location.
☛You can enable the email notification feature to let CBackup inform you of the backup result.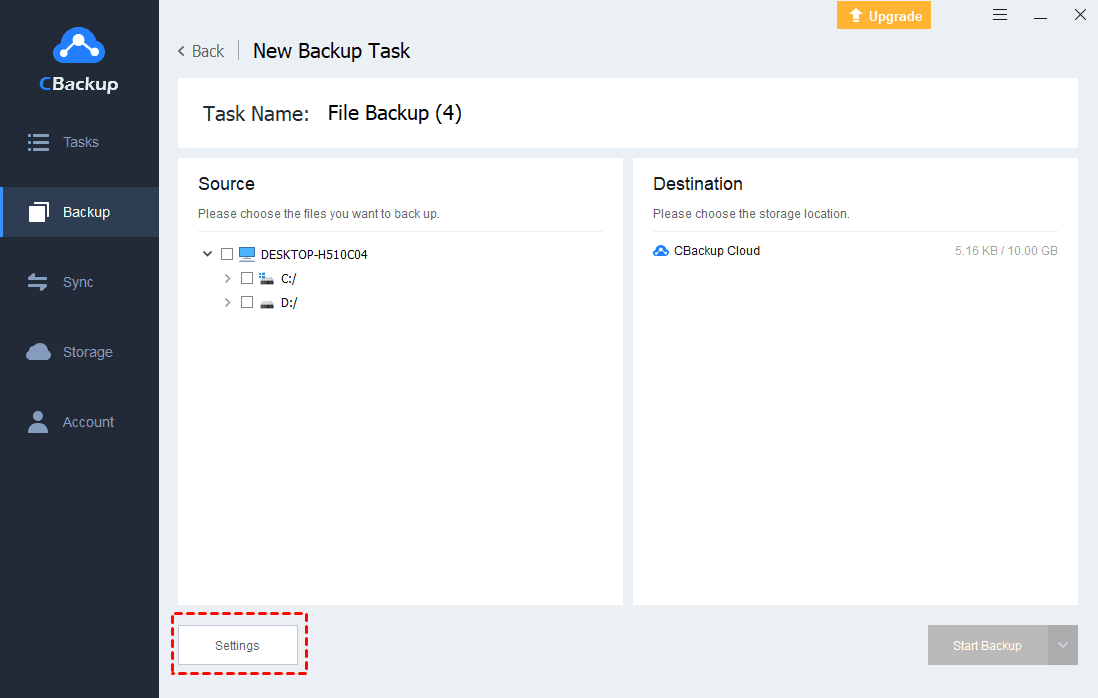 Actually, besides the storage space combination feature, CBackup also offers a PC cloud backup feature and a cloud-to-cloud backup feature. With it, you can easily backup files to CBackup Cloud, Google Drive, Dropbox, and OneDrive, and restore them whenever you need them. So, if you meet any problem when using Google Drive or want a more cost-effective cloud backup, you can download it to try.
Verdict
That's all about how to get extra storage in Google Drive, you can follow the ways one by one to optimize your storage instead of buying extra storage for Google Drive. But if you want to get extra storage without changing anything in Google Drive, you can use CBackup to combine multiple cloud storage accounts to get unlimited storage. And besides merging Google Drive accounts, CBackup is also a good alternative to Google Drive that you can try at any time.