Shah Rukh Khan's Top 10 Movies, According To IMDb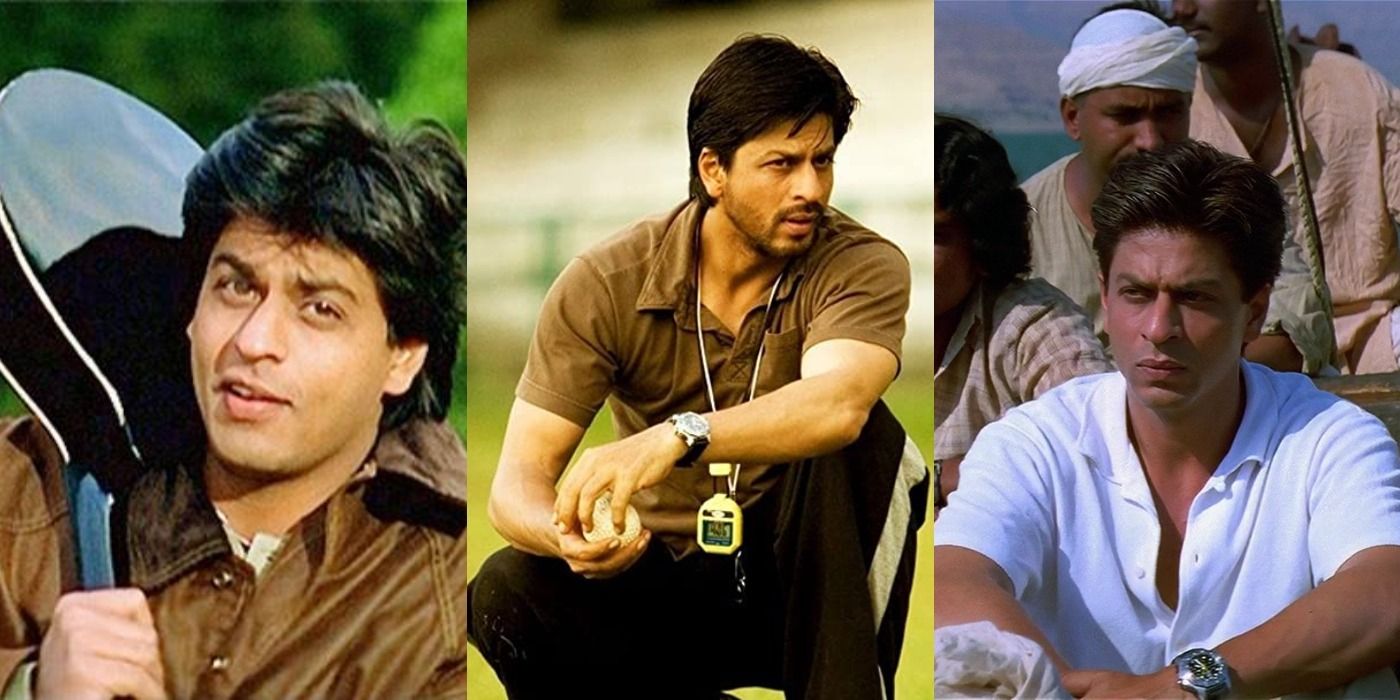 Shah Rukh Khan, or Shahrukh Khan, is a name that is famous not just within the national borders of India, but far and wide, globally. It is Khan who took commercial Bollywood cinema to audiences worldwide in the early 1990s and became a household name with his boy-next-door image and innate charisma and flamboyance.
RELATED: 5 Bollywood Stars Who Would Make it in Hollywood (& 5 Who Wouldn't)
Although typecast as the quintessential romantic hero, Khan started his career as an anti-hero, and a few of his earlier movies that are rated high by IMDb saw him in a negative avatar. It was the movie Dilwale Dulhania Le Jayenge that kicked off his journey as a romantic hero, earning him tags such as "The King of Romance," making him one of the richest actors in the world, bigger than some of his Hollywood counterparts, and undoubtedly the biggest Indian superstar of his generation.
10

Devdas (7.6)
A timeless love story based on the work of an Indian author, Sarat Chandra Chatterjee, Devdas follows the titular character who becomes dependent on alcohol after he experiences heartbreak when the woman he loves, Paro, is married to another because of major class differences between their two families.
Devdas finds solace in alcohol, but he also regularly visits Chandramukhi, a professional dancer who begins to fall in love with him. Ultimately, Devdas meets a tragic end, making for a heartbreaking love story that is nonetheless worthy of a watch.
9

Baazigar (7.7)
A powerful revenge drama, Baazigar tells the story of Ajay Sharma, whose father had been betrayed by Madan Chopra, a lowly employee who ousted Sharma's dad and took possession of his burgeoning empire, eventually becoming a wealthy business tycoon. Ajay's dad passed away from the shock and he and his widowed mother were forced into poverty thereafter.
Ajay grows close to Chopra's older daughter, Seema, who he ends up killing to set the ball rolling for his elaborate charade. He then changes his name and seduces Chopra's younger daughter, Priya, who immediately falls for him and he, with her. However, he continues to win over Madan Chopra, who remains blissfully unaware of his real identity, his endgame being to take back everything his father had lost all those years ago. Khan plays a cold-blooded killer in the movie, in another anti-hero role after the film, Darr.
8

Veer-Zaara (7.8)
Shah Rukh plays Major Veer Pratap Singh, an Indian Air Force officer who falls for a Pakistani girl, Zaara, in this epic romance that does its bit to bridge the gulf between the two neighboring countries. Veer and Zaara agree to sacrifice their love, but then Veer is falsely detained as an Indian spy by the machinations of Zaara's fianceé, which ends in him spending the next 22 years in a Pakistani jail.
RELATED: The Best Of Indian Cinema: 10 Essential Movies For New Viewers To Watch
Then along comes a young Pakistani lawyer, Samiya, who is assigned Veer's case and fights tooth and nail for his freedom, in the process uniting him with Zaara who, it turns out, was never married after all. This is probably the only movie that saw Khan playing a young man, as well as an elderly one.
7

Darr (7.8)
The movie that was Khan's big break was Darr, in which he plays an unstable and dangerous young man, Rahul, who becomes obsessed with a young woman, Kiran, going to the extent of stalking her and trying to eliminate her fianceé so that he can have her for himself.
Khan earned a lot of praise for his portrayal of the deplorable character, with some of his mannerisms as Rahul becoming as famous as the star himself.
6

Kabi Haan Kabhi Na (7.8)
A good-for-nothing young man, Sunil, is in love with Anna, who performs with him in a musical band. However, Anna is in love with another friend of theirs, Chris. When Sunil finds out, he leaves no stone unturned to draw Anna away from Chris, which ultimately puts him in Anna's bad books.
A romantic comedy in which Khan plays a boy with slightly questionable morals who wouldn't shy away from lying through his teeth if it suited his purpose, Kabhi Haan Kabhi Na isn't as well known as some of Khan's other movies, but it remains a fan-favorite nonetheless.
5

Kal Ho Na Ho (7.9)
The sprightly Aman falls in love with a young woman, Naina, but he cannot tell her how he feels, knowing well that he might die soon, as he suffers from a severe heart condition. He then puts all his energy into bringing Naina together with Rohit, a friend of hers who is also in love with her.
RELATED: Akshay Kumar: 5 Best & 5 Worst Movies, According To Rotten Tomatoes
Naina eventually gets married to Rohit, and Aman passes away, at peace that Naina is with someone who will care for her and make her happy. The movie didn't leave any dry eyes when it released at the theatre almost two decades ago.
4

My Name Is Khan (8.0)
Another critically acclaimed movie, My Name Is Khan narrated the tale of an autistic man, Rizwan Khan, caught in the aftereffects of the horrific tragedy of the Twin Towers.
Rizwan is married to a Hindu woman, Maya, whose son from her previous marriage gets brutally beaten in a football field for having a Muslim father. The young boy dies from his internal injuries and Maya is devastated, even blaming her husband for being indirectly responsible for her son's shocking death. Rizwan then sets off to meet the President of the United States to inform him that he might be a Muslim, but that didn't make him a terrorist. The movie stands as one of Shah Rukh's best performances, deviating from his popular "lover boy" image.
3

Dilwale Dulhania Le Jayenge (8.1)
Phenomenally popular and possibly the most beloved of Shah Rukh's movies is this simple love story of two-second generation Indians born and brought up in England. The movie was released globally and became one of the first to sweep worldwide audiences off their feet.
The story of Raj and Simran continues to enthrall fans even today, and it has the added distinction of being the longest-running movie in the country, having run for over 25 years with a single show in a specific theatre in Mumbai. DDLJ as it is known by fans all over the world came as a breath of fresh air, for the first time focusing on non-resident Indians as the central protagonists.
2

Swades (8.2)
This is the story of a young NASA scientist named Mohan Bhargav, who pays his elderly nanny a visit in a tiny village in India, and whose life changes when he realizes that his talents are needed much more in his homeland than abroad.
RELATED: 10 Best Classic Romance Movies On The Criterion Channel
Mohan is deeply moved by the way of life in the rural community and comes up with the idea of building a hydroelectric power plant so the village can have its own supply of electricity. The film earned tremendous critical acclaim and remains the crowning glory of Shah Rukh's career, even today.
1

Chak De! India (8.2)
Kabir Khan, the former captain of the Indian National Men's Hockey Team, joins the National Women's team as a coach. The latter had been neglected over the years in favor of the men's team, and it is Kabir's intention to build the team from the ground up, in the process also winning back his lost glory.
He is a harsh taskmaster and soon turns the girls against him. However, his tough ways also sowed the seeds of motivation amidst a team that had, until then, been in sixes and sevens. Eventually, coaching with an iron fist pays off, as the rag-tag team makes the Women's Hockey World Cup, and goes on to win it after starting out as the underdogs. Kabir, too, is finally able to restore his tarnished reputation and stays quietly in the background, his job done.
NEXT: 10 Things To Watch If You Liked Netflix's The Fabulous Lives Of Bollywood Wives

Next
Star Wars: The 10 Greatest Tricks Darth Sidious Ever Pulled

About The Author