Spoilers for 'Bachelor in Paradise' 2021: Who Ends Up Together?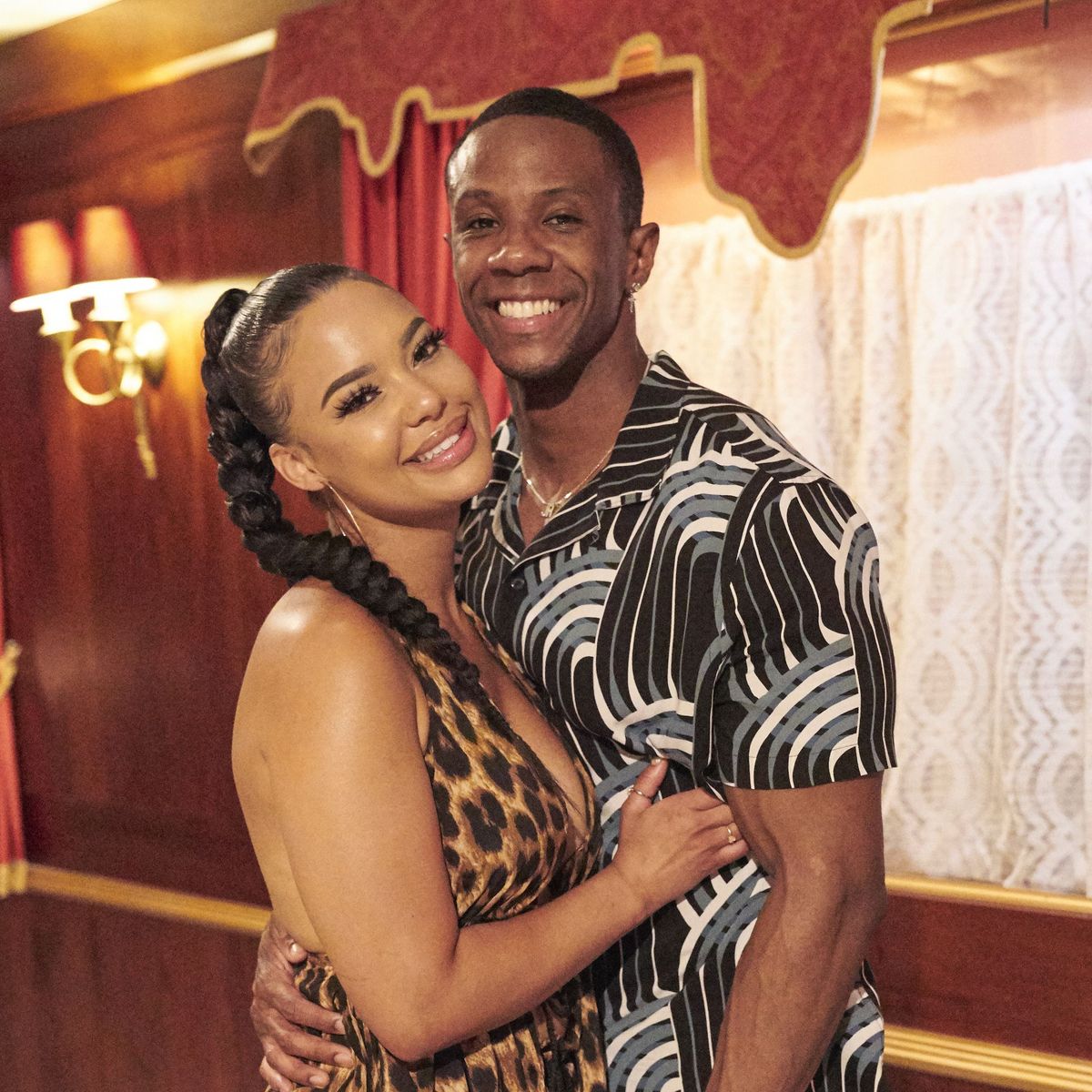 Welcome to Bachelor in Paradise season, also known as the messiest time of year. This round of competitive dating is set to be even more drama-filled than you remember: With BiP canceled last year, 2021 sees the Paradise debut of dozens of eager Bachelor and Bachelorette contestants who never even got to leave the villa during their own seasons. Spoilers for Bachelor in Paradise 2021 are already out, thanks to Reality Steve, so if you're looking for a guide to who ends up with who, which couples get engaged, and what kind of drama to expect (hint: it's a lot)—well, you're in the right place.
There were more than 100 contestants for producers to choose from for this season of Paradise. Forced with a Sophie's Choice of reality television decisions, producers decided to make this season of Bachelor in Paradise the biggest yet, bringing in roughly 40 (40!) contestants to run wild on the beach in 2021. With more cast members than ever before, the chances of several people leaving the beach engaged were high. And they did—three couples left the beach together, with more couples seemingly still together (or back together) after filming wrapped.
Which couples get engaged on Bachelor in Paradise?
According to spoilers from Reality Steve, three couples put a ring on it at the end of the season:
Joe Amabile and Serena Pitt
What happened?
Joe and Serena Pitt hit it off from the get-go. Cue Kendall Long, Joe's ex, who he also met on Paradise two years ago, who was also on the 2021 edition of Paradise. Kendall then told Joe she still had feelings for him—as Serena watched from the other end of the beach (oof)—and Joe explained that he was falling for Serena, which led to Kendall leaving Paradise. But the run-in with Kendall only made Joe and Serena stronger, it seems, because they got engaged at the end of Bachelor in Paradise.
Are Joe and Serena still together?
Reality Steve posted a photo of Joe and Serena snuggling at a rooftop pool after filming wrapped, so it seems like they're still going strong. Joe even seemingly liked a tweet that shaded Kendall's arrival in Paradise, and he and Serena keep posting Instagrams from similar-looking locations. Plus, in September, their mutual friend and fellow Paradise-rAbigail Heringer wrote on Instagram: "I'm stealing you away from @joeamabile1″—note the present tense there—so we can assume they're very much still together.
Kenny Braasch and Mari Pepin
What happened?
Kenny and Mari connected quickly on the beach. Enter Demi Burnett, a mainstay of Bachelor Nation who got engaged to her then-girlfriend on Paradise two summers ago and came back for round two. But Kenny told Mari he'd always had stronger feelings for her than anybody else on the beach, and they got engaged at the end of the season, according to Reality Steve. Footage from the trailer shows a man with a tattoo and necklace exactly like Kenny's holding out a ring, so we can assume Reality Steve's intel is correct here.
Are Kenny and Mari still together?
Kenny and Mari were photographed together after filming wrapped, per Reality Steve, though the photograph was never made public. "The picture taker didn't feel comfortable with me posting it, so I didn't," RS explained—but noted that as far as he knows, this couple are still engaged. Plus, Mari posted her Paradise journal to Instagram and blacked out certain sections, suggesting they're about Kenny and she didn't want to spoil the end of the season.
Riley Christian and Maurissa Gunn
What happened?
This couple had a strong and immediate connection on the beach, with Maurissa rejecting Connor (a.k.a. the sweet cat-costume guy who sings a lot) to be with Riley. On the couple's first date, they bonded over wanting big, loving families and looking for The One, and by the time they got back to the beach, it was official: They were crazy about each other.
Are Riley and Maurissa still together?
Yes! They got engaged at the end of the season, and Reality Steve wrote in August: "Maurissa and Riley are the only two from the engaged couples that haven't been spotted publicly since filming ended, but they have seen each other." They're just better at hiding it, he added.
Did any Paradise couples get back together after filming?
Yes! As with previous seasons, several couples who didn't get engaged on the beach ended up dating, or continuing to date, after filming wrapped. This kind of pairing, historically, can really work out—yes, really: There are several babies on the way from Paradise couples who didn't get engaged on the beach, but got together or stayed together after filming: Ashley Iaconetti and Jared Haibon; Astrid Locht and Kevin Wendt, Raven Gates Gottschalk and Adam Gottschalk.
Potentially joining those ranks are…
Becca Kufrin and Thomas Jacobs
While Becca ultimately broke things off with Thomas on the beach, per Reality Steve, they apparently got back together after filming wrapped and are still dating. When a fan wrote on Instagram that Thomas emanated red flags—something former Bachelorette Katie Thurston had also spoken out about—Becca fired back: "Red is my favorite color." And, weirdly, Thomas posted an Instagram wearing a gold ring on his ring finger.
Wells Adams weighed in: "Becca has a tendency to not choose the best guys in the world. But for this, I do think that Thomas is a good guy."
Noah Erb and Abigail Heringer
Noah and Abigail were on-off on the beach, but broke up at the end of the season. But they were spotted out together and seen on Instagram post-Mexico wearing the same necklace—which implies that they got back together, or have weirdly similar tastes in necklaces.
One catch, though: Clare Crawley tagged Abigail in an Instagram post alluding to her breakup with Dale Moss, leading Bachelor Nation to speculate that there might be something going on between Dale and Clare. And Noah posted an Instagram Story shortly thereafter in which he said, "A lot of interesting stuff swirling around…"
Brendan Morais and Pieper James
Ah, the extremely controversial couple who started dating before going to Paradise, then went to Paradise separately, then resumed dating on the beach and broke the "here for the right reasons" rule once and for all! Of all the post-Paradise couples, these two were "seen the most in public" after leaving the beach according to Reality Steve, but they broke up before the season finished airing.
In mid-September, Pieper told Us Weekly: "We're working through things. This obviously isn't something that's super healthy for a relationship either, so it kind of is what it is. Every day…taking it day by day." By October, they had split.
Alana Milne and Chris Conran
Runner-ups in the "controversial couple on the beach" stakes were Alana and Chris, who hit it off the second Alana walked in—even though Chris had been coupled up with Jessenia. Speculation about Alana and Chris dating pre-Paradise led to the couple being kicked off the beach after a single date, but they've been on several more dates since then, Alana said on the Bachelor Happy Hour podcast, and she visited Chris in his Utah hometown. It's not clear if they're together-together, though.
Ivan Hall and Alexa Caves
It's not clear whether Ivan is still dating Alexa, with whom he spent the night while sheltering from the Paradise storm. But considering he left the show immediately after, it's very possible: ""[There's] a lot to talk about still," he said via Instagram after the episode in which he left the show aired. "A lot to be explained…[I] can't wait to have the opportunity to do that at some point in the near future because I think everything will make a lot of sense."
And what about the next Bachelor?
If we're going to talk about spoilers, let's discuss a big one: The next Bachelor, who has reportedly already been cast. And no, it's not Michael Allio, or Greg Grippo, or any other fan favorite that Bachelor Nation speculated about. It's a formal NFL player called Clayton Echard, from Michelle's season:
Says Reality Steve: " I know Clayton at least made Top 12 since he's in a group date of 10." At this stage we don't know much about Clayton, or how or why he was chosen for the role, but we'll get to know him better during Michelle's season, which begins Oct. 19.
We know who will host Clayton's season, too: former NFL player and sports host Jesse Palmer, who took on the titular role of The Bachelor in season five and will now return to host.