The 18 Best Backpacks for Women in 2022 | Stylish Backpacks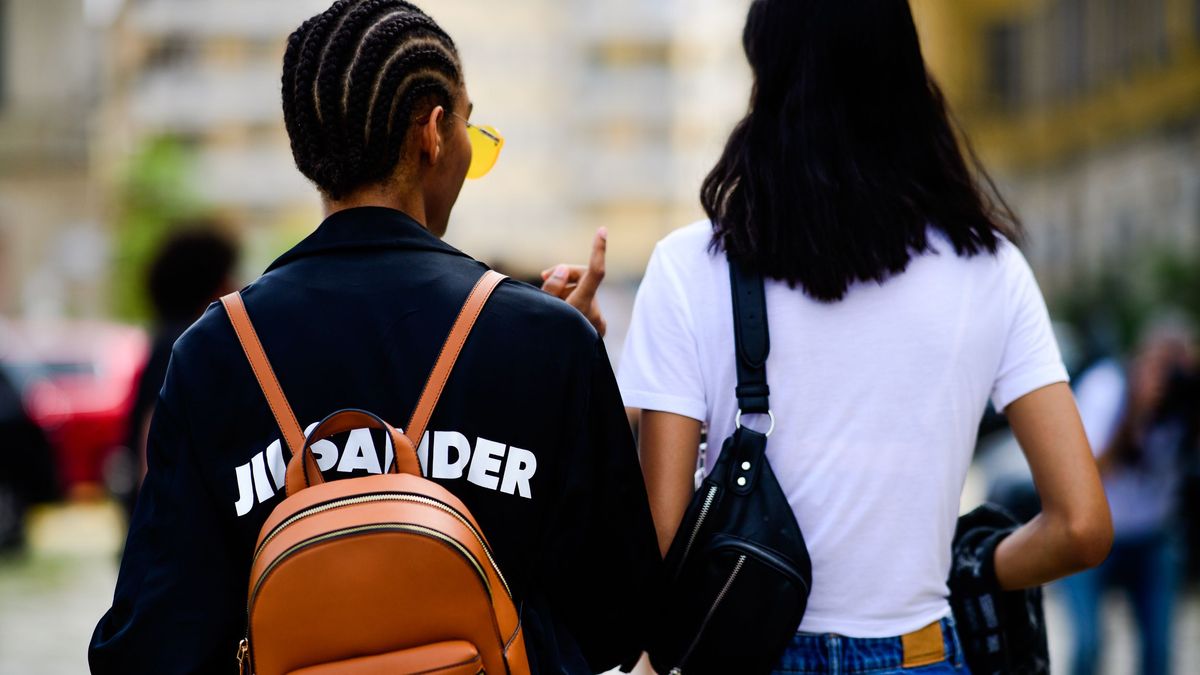 Backpacks have become the perfect choice for a hassle-free schlep across town. Gone are the days when you'd only spot backpacks on the shoulders of Coachella-goers—now, investing in a luxe leather backpack has become just as satisfying as getting your hands on that new Gucci shoulder bag you've been eyeing. Ahead, we've rounded up the best backpacks for every occasion, from the gym to the office, that will make you reconsider grabbing your tote the next time you walk out the door.
Everlane The ReNew Transit Backpack
Everlane's minimalist ReNew backpack, made from 100 percent recycled polyester, can fit a 15-inch laptop. Plus, it's water-resistant for those unpredictable rain showers on the commute home from work.
ANDI Studio Backpack
Use this sporty skewing backpack as a gym bag, diaper bag, or a daily all purpose bag. A front snap pocket offers quick grab access while mesh side pockets and internal pockets will fit your water bottle and an extra pair of shoes.
Portland Leather Goods Mini Snap Backpack
This mini backpack is a versatile hands-free option that boasts a large front snap pocket and buckle straps that adjust for a customizable fit.
Madewell The Canvas Somerset Backpack
Madewell's sturdy canvas backpack is every boho lover's dream, and even has the option to be monogrammed.
Lululemon Dual Function Backpack to Tote Bag
This bag easily converts from a tote to a backpack. Try it once and you'll wonder how you ever made the office-to-gym commute carrying anything else.
Madewell The Transport Rucksack
Behold: a vegan leather bag that can be carried by the handle, worn over both shoulders, or slung over one arm without any worry that you're going to rip the straps. It has enough room to fit your entire life—laptop, tampons, lipstick, and all—and comes in black if you plan to keep it at the front of your closet year-round.
Cuyana Leather Backpack
Blink and you'll almost mistake this backpack for a classic bucket bag. If you can afford to splurge a little, this soft leather silhouette is sturdy, beautiful, and has an easily accessible pocket to slip your phone into so it doesn't drown in your receipts.
MZ Wallace City Backpack
The quilted pattern on this MZ Wallace bag is elevated, so you can sport it around laid-back work environments without looking like you're heading to the nearest music festival.
Cuyana Large Leather Backpack
We might as well call this sleek leather backpack Mary Poppins because it's practically perfect in every way.
Paravel Shop All
Paravel's leather-trimmed, water-resistant canvas backpack screams, "Take me to Italy!"
Parker Clay Abby Drawstring Backpack
We love this backpack for its undeniable style, but also because each purchase provides four hours of employment to Parker Clay's team in Ethiopia.
Mifland Bedford Bag
This multi-wear bag comes with a variety of straps so you can don it crossbody style, like a shoulder bag, or a backpack.
Baggu Packable Backpack
It rolls up to the size of two pairs of socks, making it the perfect stowaway for any vacation that may need an all day excursion kind of bag.
Longchamp Veau Foulonne Backpack
This is not your middle school Longchamp tote bag—it's better. Meredith Blake would approve.
Prada Medium Nylon Backpack
"I like my Skechers, but I love my Prada backpack." Wiser words were never spoken, thanks to Bianca in Ten Things I Hate About You. Prada's nylon accessories are a '90s classic that are here to stay.
Beis Raffia Sling Backpack
This natural woven backpack has an adjustable sling strap, so you can stay hands -free in high style.
Maje Leather Backpack With Chain
Fringe is always a good idea.
Tory Sport Ripstop Nylon Color-Block Backpack
Whether you're hiking on the mountainside or home from the grocery store, this colorful backpack is constructed from super-lightweight and durable ripstop nylon that won't weigh you down.