The 21 Best Fall Hats for Women in 2022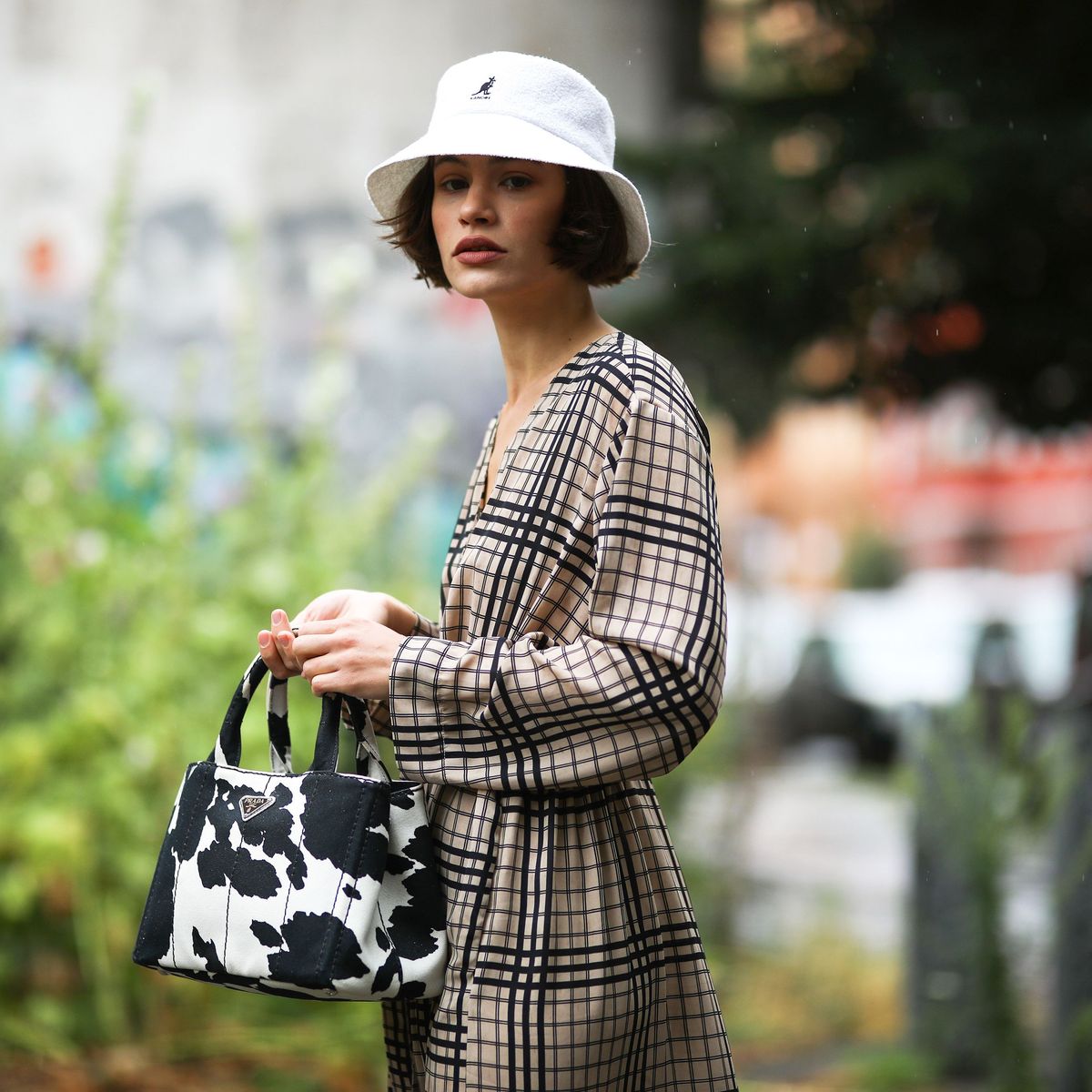 Sure, warm-weather hats like straw hats and visors are great for summer vacations and days spent lying out by the pool, but the chic fedoras, slim berets, cool baseball caps, and cozy beanies that come out in autumn provide even more opportunities to hide bad hair days and accessorize like a pro. Ahead, shop the best cool-weather headwear you'll want to pair with your stylish fall outfits (and check out our guide to what's trending for fall 2022).
Lack of Color Teddy Faux Shearling Bucket Hat
This teddy bear shearling hat has UV protection, so you can wear it from the beach to the bonfire.
Ruslan Baginskiy Safety-Pin Felt Fedora Hats
Accessorize your accessory. Upgrade your basic felt hat with an edgy barrage of gold safety pins.
Brixton Audrey Beret
Take a classic and give it a modern twist this season with this color-blocked, slate blue beret.
Tory Burch T Monogram Jacquard Reversible Bucket Hat
This hat is a two-for-one: Its pattern, inspired by Pennsylvania Dutch quiltings, is completely reversible.
Asos DESIGN Slouchy Beanies
Made from recycled materials, this slouchy beanie 2-pack is hard to pass up, especially when it's under $15. Sport these affordable essentials with all your weekday casual looks.
Clyde Clyde Tommy Hat
We love the homespun look of this beanie that is hand knit, in small quantities, in Canada.
GUCCI Faux Shearling Wool and Cashmere-Blend Hat
Bucket hats aren't just for summer. This shearling lined hat will keep your head both warm and stylish.
Clyde Rainy Day Hat
Some days just call for a clear vinyl bucket hat—and this Clyde hat is perfect for rain or shine.
Isabel Marant Tartan Check Bucket Hat
Nothing is more quintessentially fall than a tartan check hat. Pair it with your cable knits and corduroys.
GIGI PIP Scottie Wide Brim Fedora
This always-timeless gray felt fedora will become a staple in your closet. Wear to add a cozy laid-back touch to your cold-weather looks.
JW Anderson Logo Plaque Bucket Hat
Crafted from recycled cotton and polyester, this mixed-media hat has a cool asymmetrical fit.
BRIXTON Wesley Hat
This versatile short-brimmed hat will play up any fall look. Combine the staple with anything, from sleek knits and rugged jackets to your other fall favorites.
Laulhere France Béret Millésime
Tap into your fantasy of strutting down the Champs-Elysées by adding a hint of Parisian-girl chic to any of your everyday looks. This textured beret will bring that extra something to your fall daytime looks.
Lack of Color Forest Rancher
Pair this "borrowed from the boys"-style fedora with your favorite coats and jackets. The wide brim and vintage green color will make a statement this fall.
Frances Grey NY Rikki Hat
This plush tie-dye bucket hat is a street style essential. Keep your looks original with this New York brand—each of their hats are made by hand, so no two hats are ever the same.
Eugenia Kim Honey Floppy Wool Hat
This Eugenia Kim wide-brim hat with gold pin embellishment and folded detail is your new go-to. Pair with any of your cold-weather favorites for your next getaway.
Drake Drake Fedora Hat Grey
For traditional silhouettes with modern details, Gigi Burris does it best. This monochromatic wide-brim hat will go with everything from your best knit dresses to your favorite trench coat this fall.
Maison Michel Kiki Straw Boater Hat
This one is for the bride who is looking to show off her personal style! This Maison Michel boater hat, crafted by couture milliners, has a delicate veil in front and is the perfect chic alternative to a traditional veil this season.
Elder Statesman Hot Watchman Beanie
Elder Statesman's signature tie-dye and California-cool vibes are all here in this super-soft cashmere beanie. Easily stay warm the rest of the year by adding this pop of color to any outfit.
Janessa Leone Frankie Hat
Janessa Leone's "Frankie" hat has a double leather band that gives a polished look to the pure-white short-brim hat. Its neutral tones will complement all the cold-weather knits you're dying to pull out of storage.
Tom Ford Velvet-Trimmed Bucket Hat
I thought this vintage-inspired bucket hat (perfect for a chic City Hall wedding) existed only in my dreams! Pair this with an tailored ivory tuxedo jacket and straight-legged pants for your big day.