The 'Ted Lasso' Cast Was So Freaking Charming at the 2021 Emmys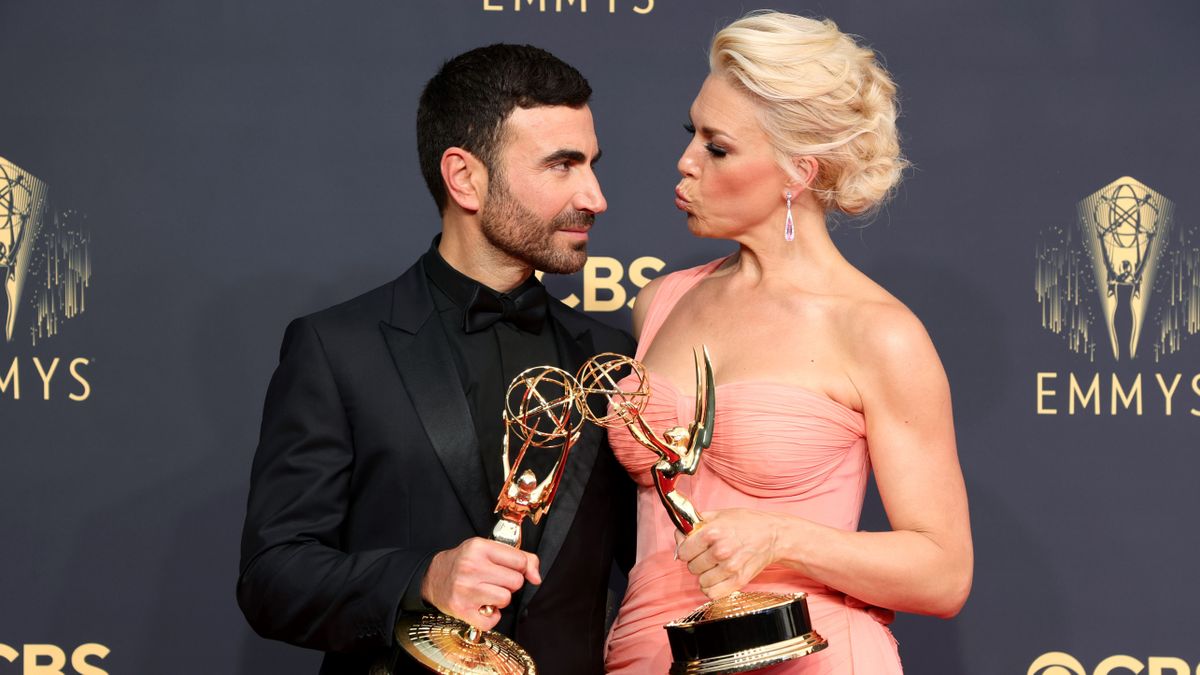 The Ted Lasso cast charmed the pants off of viewers Sunday night at the 2021 Emmys, sweeping the comedy series categories and being—much like the AppleTV+ show itself—absolutely endearing and moving in the process of winning big. From Jason Sudeikis's suave blue velvet suit to acceptance speeches we actually didn't want played off, here are all the adorable moments the Ted Lasso stars served tonight.
Hannah Waddingham won Best Supporting Actress in a Comedy Series for her portrayal of Rebecca, and her acceptance speech was so sincere, emotional, and funny.
During the exuberant speech, she thanked show creator Jason Sudeikis, saying, "Jason, you've changed my life with this and more importantly my baby girl's [life]." She continued, "And I will work with you for as long as you let me because, honestly, I'm so privileged to work with you. I really am." Waddingham also sweetly thanked co-star Juno Temple and even gave a nod to Cady's big Mean Girls dance speech.
"Juno Temple…if I could break off one of [this Emmy's] arms and give it to you because that's what you are to me. There's no Rebecca without Keeley, and if you ever leave my life, I'm going to stalk you." She added, "To my parents, I nearly lost you during the filming of this season. I'm so glad that you are here to see this moment."
Temple, who is Waddingham's real life best friend after meeting on the show, gave Waddingham a very, very long congratulatory hug.
Then Brett Goldstein won for Best Supporting Actor in a Comedy Series and delivered a Roy Kent-worthy speech that mostly got censored by CBS but still managed to be adorable.
"I was very, very specifically told I'm not allowed to swear," Goldstein joked. "So this speech is going to be f*cking short… To my teammates that I'm nominated with. This cast made me sick, they're so good."
The actor continued, "It has been one of the greatest honors, privileges, and privileges—I just said that twice, but it's a double privilege. It's the most privileged privilege and pleasures of my life. And this is the f*cking icing on the cake."
And Sudeikis, who did not wear a hoodie, looked so proud watching his cast win.
I mean…
And, of course, Jason himself won for Best Actor in a Comedy Series, and his acceptance speech gave us all serious Ted-locker-room-pep-talk-vibes.
"I would say that this show is about family," Sudeikis said while accepting the award. "The show is about mentors and teachers. This show's about teammates. And I wouldn't be here without those three things in my life."
He also thanked the rest of the series' cast saying, "I'm only as good as you guys make me look, and so, really, it means the world to me to be up here and just be a mirror of what you guys give to me and we reflect back and forth on each other. So thank you so much."
Ted Lasso closed out the evening by picking up the trophy for Outstanding Comedy Series. We're not mad about any of this.