Top 10 Most Romantic K-Drama Couples For Valentine's Day, Ranked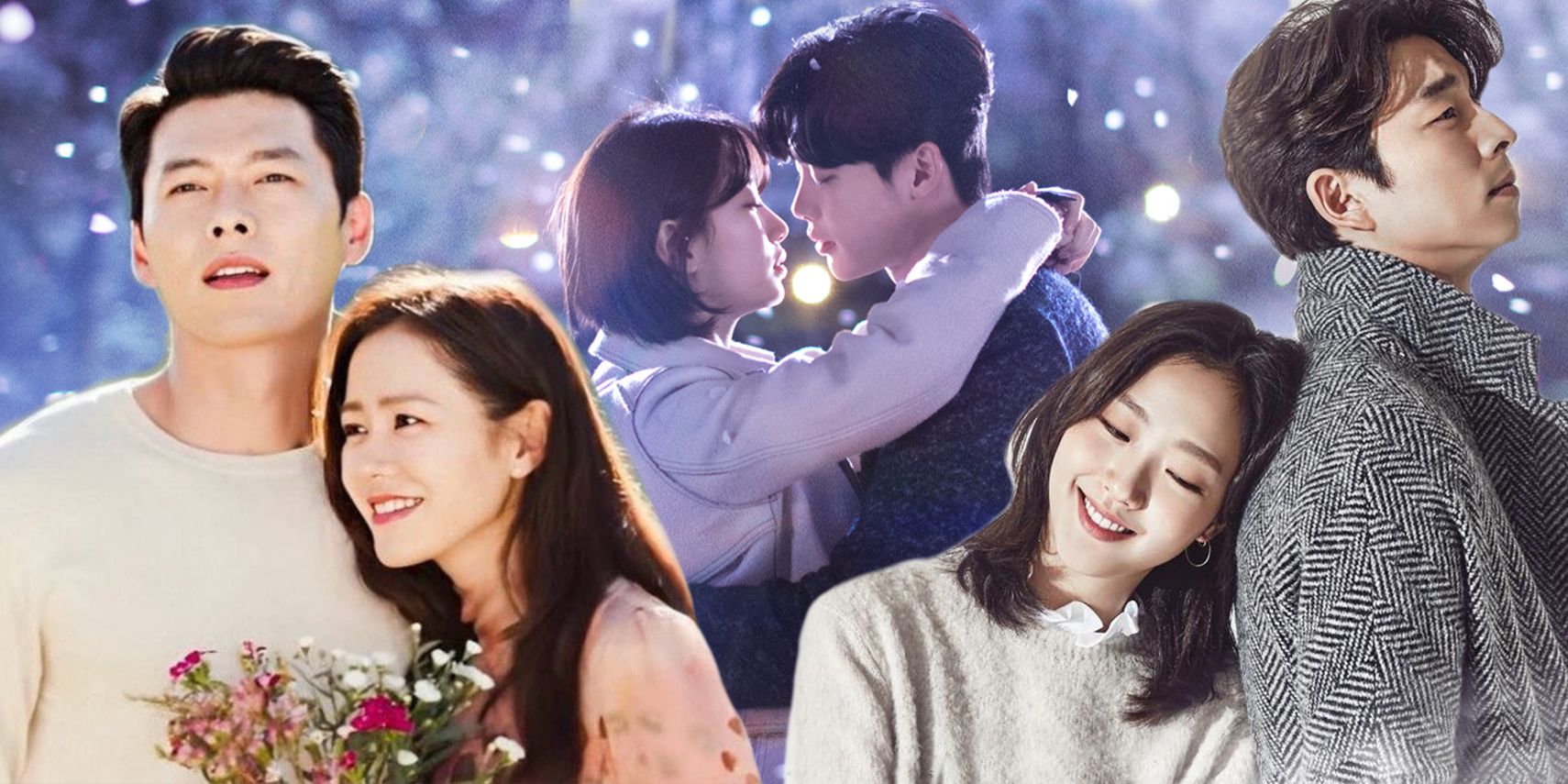 For some, Valentine's Day is all about sappy romance movies, sweet and affectionate couples, and endless displays of love. While both hit and cult classic movies may take the cake for featuring some of the most romantic couples, K-dramas give them a run for their money. Couples from When the Camelia Blooms and W, define a dream-like romance.
RELATED: 10 Best Teen Love K-Dramas To Watch This Valentine's Day
Fans can't help but rejoice over the "aegyo" and cute shenanigans by some of K-dramas best couples. These couples show deep and riveting love for each other amongst the thrilling drama, heartaches, and fated destinies.
10

Hong-Joo & Jae-Chan (While You Were Sleeping)
This K-drama isn't meant to be confused with the American romance/comedy of the same name. Instead, this is a legal drama-fantasy revolving around a young female journalist and a rookie prosecutor. Fans fell in love with the main characters who soon fall in love with each other.
Fans will recall countless cute and emotional scenes, like when Hong-Joo (Bae Suzy) is admitted to the hospital and Jae-Chan (Lee Jong-Suk) rushes to her side. In the scene, he diligently asks if she's okay and picks her up by her legs. There's even a comical jealousy scene in episode eight by Jae-Chan. Let's not forget he also shuts her up with a kiss in episode 13. Swoon.
9

Se-Hee & Ji-Ho (Because This Is My First Life)
Not all relationships start the way they should. In this drama, a socially awkward Se-Hee (Lee Min-Ki) goes into a living arrangement with a homeless writer and agrees to not develop feelings, but fate has other plans. Se-Hee proved to be smooth in romance despite being cold at times.
He and Ji-Ho (Yoon Ji-Ho) soon fall in love despite their life troubles. Fans swooned in episode 11 when Se-Hee tells Ji-Ho that they never had a proper real kiss. Ji-Ho admits she didn't do it well and Se-Hee swoops in to show her how it's done – all while watching a beautiful sunset.
8

Min-Kyu & Ji-Ah (I'm Not A Robot)
Despite having low ratings during its time on-air, I'm Not a Robot did incredibly well with overseas fans. It's a complex yet riveting story of an unexpected romance, AI, and a dangerous illness, often seen in K-drama tropes. Min-Kyu (Yoo Seung-Ho) has a severe allergic reaction to the human touch and falls in love with Ji-Ah (Chae Soo-Bin), believing she's an AI.
Their love story is full of ups and downs and romantic moments. After uncovering the truth, Min-Kyu realizes he really fell in love with the human, Ji-Ah. Fans were heartbroken to see the series end, but content that the couple got their fairytale ending and even a "dip" kiss as the snow falls.
7

Song-Yi & Min-Joon (My Love From The Star)
My Love From the Star is a highly acclaimed drama from 2013 due to its science fiction and fantasy elements or perhaps the romance between the two main characters, which both happens by chance and yet was fated all along. Min-Joon (Kim Soo-Hyun) has been stuck on Earth after failing to return to his home planet.
RELATED: 10 K-Drama Characters That Have Every Fan Feeling "Second-Lead Syndrome"
Centuries later, he finds himself neighbors with Seong-Yi (Jun Ji-Hyun). He gets entangled in her unpredictable life and his secret identity is in peril. Fans came to admire their story as they fell in love and Min-Joon does everything possible to save Song-Yi from an enemy. Fans got chills when he stops time at her award show, covers her up in his coat and they share a tearful gaze and passionate kiss.
6

Bok-Joo & Joon-Hyung (Weightlifting Fairy Kim Bok-Joo)
Childhood friends find love in this K-drama that had a bit of everything and enthralled fans. Bok-Joo (Lee Sung-Kyung) dreams of being a professional weightlifter and crosses paths with Joon-Hyung (Nam Joo-Hyuk). They have no recollection of each other until an event brings back old memories.
The pair soon fall in love and display one of the cutest relationships seen in K-dramas. In one scene, she admits her feelings and bravely plants a kiss on him. Joon-Hyung is shocked, to say the least, but gleeful and pulls her in close for more. Another instance was when he takes her out on a date and only orders one drink with two straws. He later holds her hands during the fireworks.
5

Jeong-hook & Se-Ri (Crash Landing On You)
Crash Landing On You gained worldwide recognition and helped skyrocket K-dramas to the mainstream. Jeong-Hyeok (Hyun Bin) and Se-Ri's romance will have fans feeling Valentine's Day vibes with how sweet they are. Despite Jeong-Hyeok looking for a way to return Se-Ri (Son Ye-Jin) to South Korea, he starts to care for her.
He even goes out of his way to buy her South Korean beauty products so that she's comfortable. Their plans get derailed when Se-Ri sacrifices herself to keep Jeong-Hyeok safe. Their romance brings tears to viewers' eyes when Jeong-Hyeok tries to deny their relationship in order to keep Se-Ri from prosecution. Jeong-Hyeok even rushed to her side when she falls ill, despite being in custody.
4

Dan-I & Eun-Ho (Romance Is A Bonus Book)
Dan-I (Lee Na-Young) and Eun-Ho's (Lee Jong-Suk) relationship is one for the books, as they find love when one needed the other most. Dan-I is a single mother going through a rough patch and gets her long time friend, Eun-Ho, to help. As Dan-I finds her footing again, they fall in love. Eun-Ho shows insurmountable affection for her as she deals with being an older woman reentering the workforce.
Fans couldn't get enough of the cute moments here, like the back hugs, small kisses, and cuddling sessions. The first time Eun-Ho asks her out on a date would make any heart flutter. By the end, they prove to be the perfect match all along.
3

Won-Suk & Ho-Dol (Love With Flaws)
This 2019 rom-com captured fans' hearts, but it wasn't just the main love story that fans fell for. The whole premise of the show surrounds two people who generally weren't mean to fall in love, but do so anyway. They look past each other's flaws for who they really are. But there was another supporting romance that also captured attention between the two male supporting characters, Won-Suk (Cha In-Ha) and Ho-Dol (Jang Yoo-Sang).
RELATED: 5 K-Drama Male Love Interests We'd Date (& 5 We'd Stay Away From)
These two strangers meet at a gay bar where Won-Sul bartends, but it's not a "love at first sight" moment. As more coincidences occur, they start to care for one another. When Ho-Dol gets outed, Won-Suk is there to support him. Even when his classmates refuse to sit near him and Won-Suk enters, he sits beside him and has him hold his head high. A romantic and emotional moment occurs when Won-Suk visits Ho-Dol, sees the scar on his lip and learns that his father gave it to him when he came out. Won-Suk is nothing but loving and carefully caresses his lip.
2

Kim Shin & Eun-Tak (Goblin)
Goblin is a well-known fantasy K-drama that had a memorable romance and an ending that was hard to swallow. Kim Shin, or Goblin, is on the search for his bride who will finally allow him to move on after removing the sword from his chest. He spent years feeling lonely until he starts to fall in love with his bride and find a new purpose.
Kim Shin and Eun-Tak's romance is one that fans always remember. It was emotional, tear-jerking, romantic, and heartbreaking all in one. This couple deserves an award for its cute moments, like when Kim Shin was flabbergasted that she was able to follow him to Canada, or when they both get jealous over a past ex and love letter.
1

Bong-Soon & Min-Hyuk (Strong Woman Bong-Soon)
Bong-Soon (Park Bo-Young) is one of the K-drama leads often remembered for her storyline and character. Behind her sweet and cute demeanor is a tough and badass woman who has exceptional superhuman strength. Her love story with Min-Hyuk (Park Hyung-Sik) was the cherry on top. She becomes the bodyguard of a young CEO, while also being a childhood friend.
Along the way, she comes to let go of her past love and have feelings for her boss. Fans adored this couple, as they were cute, sweet, and heartwarming. Fans recall the scene when Min-Hyuk tries to scold her, but she gets away by making his heart flutter when she gives him a nickname. They fall hopelessly in love and do whatever necessary to keep each other safe from harm.
NEXT: 10 Scenes From K-Dramas That Came From Its Webtoon

Next
10 Best Madame Web Comic Books Ever

About The Author