Who Are Naomi Osaka's Parents, Leonard Francois and Tamaki Osaka?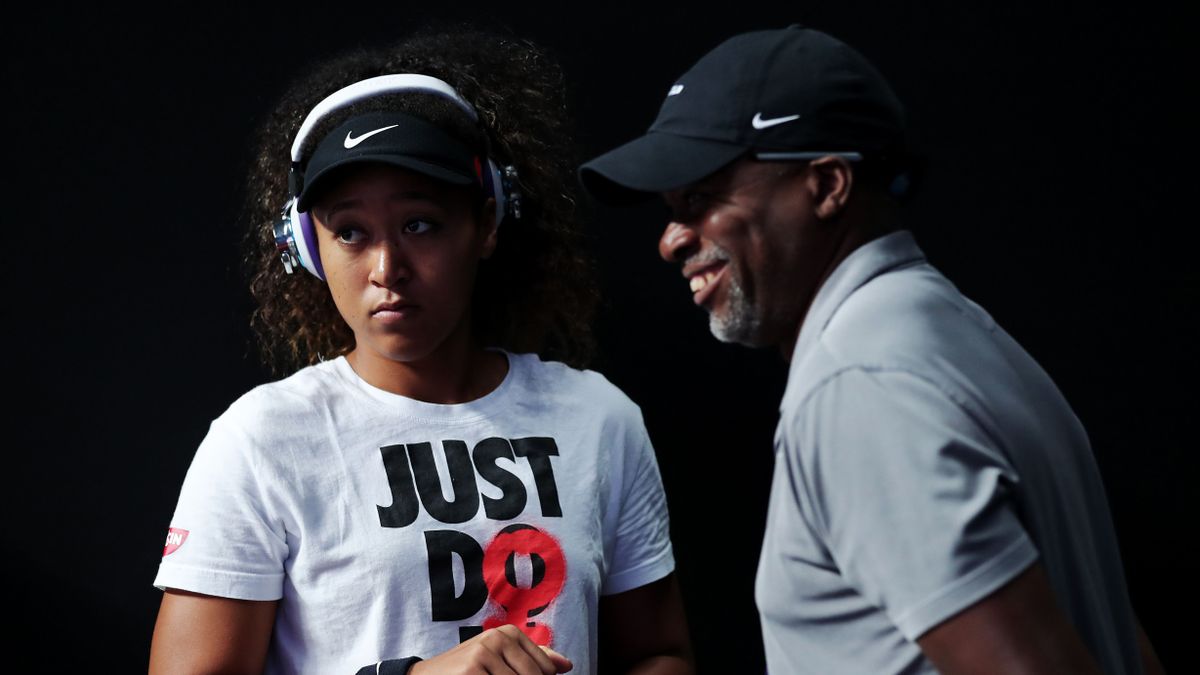 The world is buzzing over Naomi Osaka. Not just because she's a tennis superstar and two-time Grand Slam winner, but also because Osaka sent a critical and courageous message about Black Lives Matter and racial justice at the 2020 U.S. Open. Osaka has been playing while wearing masks with the names of Black murder victims on them, including Trayvon Martin, George Floyd, and Breonna Taylor. If you're not a tennis fan, this might be the first time you've heard her name—but Naomi is a badass. She was raised by her father to excel at tennis and followed the trajectory of greats like Serena Williams before actually beating Williams in the U.S. Open in 2018. "I feel like I'm a vessel in order to spread awareness," she has said of her recent mask-wearing, but she's been vocally supportive of causes like these for a long time. So what do we know about her family, who have had a profound effect on her?
Naomi's family is Haitian and Japanese.
Naomi's parents are Leonard Francois (who hails from Haiti) and Tamaki Osaka (who's from Japan). Naomi identifies as Black and Asian, but, despite growing up in the U.S. for a portion of her life growing up, says she doesn't identify as American. "I don't necessarily feel like I'm American. I wouldn't know what that feels like."
Instead, Naomi celebrates her heritage, saying in a 2018 interview:
"Japanese culture? I love everything about it…And Haiti, if you've ever met a Haitian person, they are really positive, and literally if you're friends with them, then they will do anything for you. That's something that is a really good trait, and I'm really happy that my grandparents and my dad's side of the family is like that."
Tamaki met Francois in Japan when she was in high school and he was in college. The two dated in secret for years, and Tamaki's family didn't speak to her for about a decade and a half when they learned of her relationship with Francois. The couple moved to Long Island to live with Francois' family when Naomi was 3 (she was born in Osaka). But the family reconnected with Tamaki's family in 2008.
Naomi's parents are both her biggest fans. After Naomi beat Serena Williams in 2018, she went straight to her mother and the two embraced in an emotional, tearful moment:
Afterwards, Naomi posted about her parents and their support:
"She is very close to her family," Lindsay Davenport said of Osaka during a segment on the Tennis Channel. "Her parents have done a remarkable job the last few years, grooming this superstar and then stepping back and letting her live her life."
Happy Mother's Day ❤️ pic.twitter.com/0ishV3tbtlMay 9, 2021
See more
Her older sister Mari also played tennis.
Until recently, Naomi's older sister Mari was also a professional tennis player (and, in case you're wondering, yes, they have drawn comparisons to Venus and Serena Williams). The two sisters are extremely close and best friends off the court—and they play doubles on the court, too.
In March of 2021, Mari wrote on Instagram: "I am retired from playing tennis. It was a journey which I didn't enjoy ultimately but I'm grateful for all the memories and support I've gained and received over the years from the sport."
Naomi's father started coaching her when she was young.
Francois didn't have tennis experience, but was inspired by—who else—the Williams sisters. Followed the "blueprint" of their father Richard Williams, Francois watched videos and had his daughters hit thousands of balls a day. The family later moved to Florida for training opportunities, and Francois still follows his daughters' training and matches closely.
Osaka has also spoken about her mother's influence. "Growing up, I saw my mother work incredibly hard to support me and my passion for play. She always put others first and encouraged me to embrace my diversity," she said in a statement about her tennis academy.
Naomi's parents also explained why they chose for Naomi to represent Japan, giving up her U.S. citizenship, despite growing up in America:
"We made the decision that Naomi would represent Japan at an early age. She was born in Osaka and was brought up in a household of Japanese and Haitian culture. Quite simply, Naomi and her sister Mari have always felt Japanese so that was our only rationale. It was never a financially motivated decision nor were we ever swayed either way by any national federation."
Naomi has developed a strong fan base in Japan, as well as lucrative endorsements.
She parted ways with her former coach Jermaine Jenkins in 2019 and her father stepped in temporarily to coach her. She joked at the time that yes, she would be bringing on another coach, and that her father's support was important and also frustrating. "Yeah, he's so annoying. Oh, my God [laughter]. Do you hear his on-court coaching? I can't believe it. He runs up to the bench talking about, Be calm. That's it. He doesn't give me any tactics. I can't believe this. I was so mad [laughter]." She also divulged that he couldn't watch her play, preferring to catch glimpses on the TV feed.
She added, more seriously, "Yeah, for me, he kind of lets me do my own thing, which I like. Also I feel like I need structure a little bit because if I do my own thing for too long, I don't know, I feel like I need guidance or advice from someone, you know?" In 2020, she added coach Wim Fissette to her team—but her family remains an important part of her work and life.
Finally, this is adorable:
This is adorable!! Naomi's mom telling her.. Line 1: good jobLine 2: stay off social media and get sleepLine 3: drink your green juiceLine 4: I love you pic.twitter.com/0bxM2Wbb2GSeptember 3, 2020
See more