Who Is Riley Roberts, Alexandria Ocasio-Cortez's Boyfriend?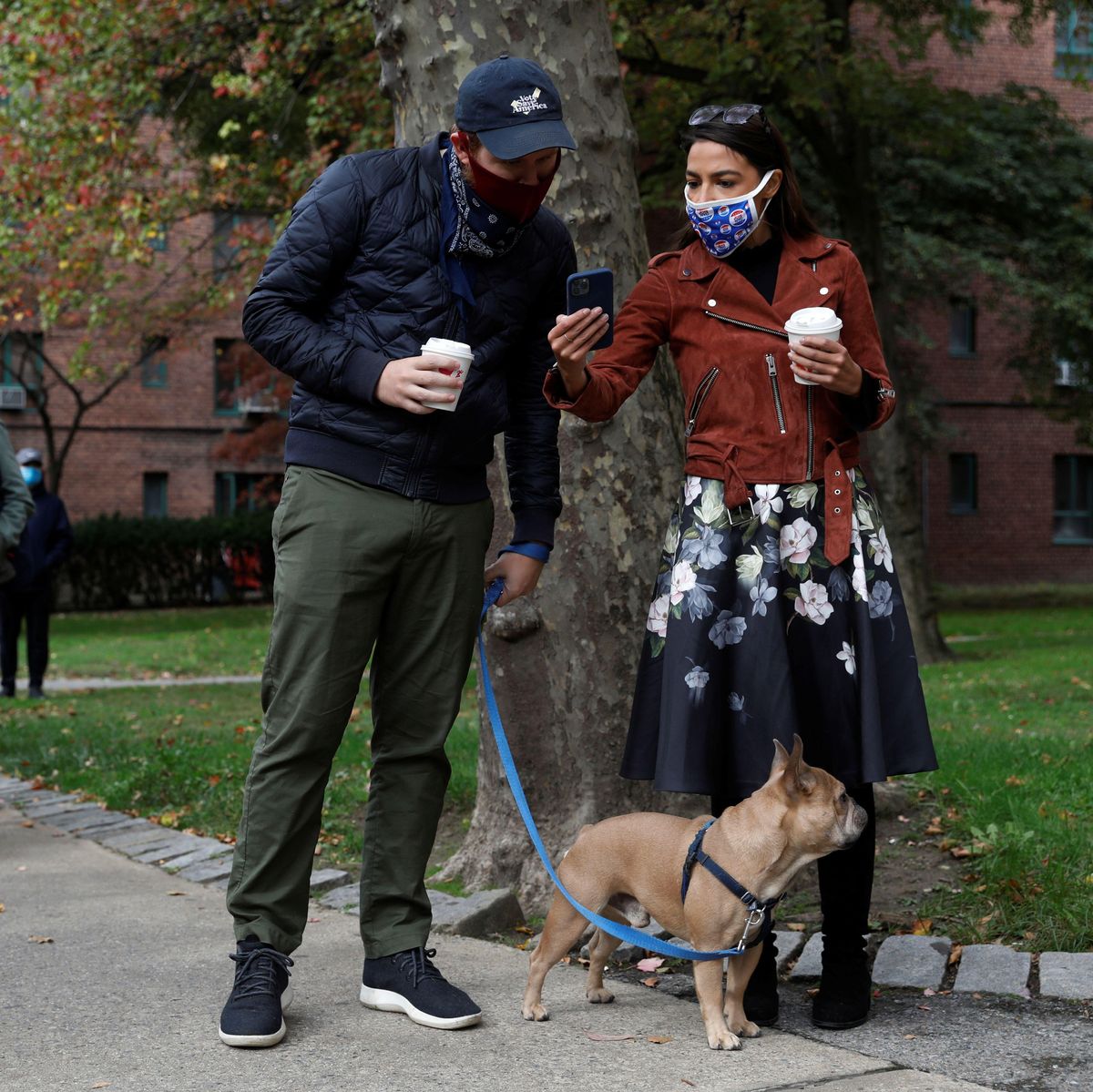 New York Representative Alexandria Ocasio-Cortez, 31, is making history as the youngest woman to ever serve in Congress. She's pretty tight-lipped about her private life, and so her relationship with web developer boyfriend Riley Roberts is low-key. It's so low-key, in fact, that you might not have known they were a couple. Or even that she had a boyfriend (ahem, me, I didn't know). So: Who is Riley Roberts, the private and fiercely supportive boyfriend to one of the most up-and-coming congresswomen in the United States?
How did AOC and Riley meet?
A 2018 Vogue profile on Ocasio-Cortez described Roberts as an "easygoing redhead" (lol) and explains that he's been supportive of her for a looooong time.
Then there's Roberts, whom Ocasio-Cortez met—"in true nerdy fashion," she says—at a weekly Friday-afternoon conversation hosted by the dean at BU. He later moved from Arizona to be with her. When I first met him backstage at The Daily Show, he was casually citing tax rates in the 1950s.
At these Coffee & Conversations meetings at BU, according to Insider, Ocasio-Cortez often drove the sessions. A college friend told the publication that she would often end the meetings "with thoughtful conclusions that included 'her own twist' on the subject."
On the other hand, Roberts liked to keep quiet. "You could see him in the corner of the room really thinking through things," said a mutual college friend of the couple to Insider, who described him as "philosopher" type. Another friend said to Vanity Fair that in their liberal college bubble, "it becomes pretty easy for everyone to, basically, have the same thinking…That always bothered Riley." 
It sounds like couple was brought together by their love of in-depth conversation, and honestly, that sounds amazing? It's said that the couple was (and honestly still is) so low-key that some friends didn't even know they were together until several years after they had all graduated from college.
"I think people see how glamorous she is, but these were not two glamorous people…These were two awkward, supersmart, like-to-talk-about-issues kind of people that met through this super-wonky, nerdy thing," their friend Raul Fernandez told Vanity Fair. Of Roberts, he added: "When the camera is on her, he steps out of the way."
What does Riley Roberts do?
According to LinkedIn, Roberts is head of marketing at HomeBinder.com, which helps people manage the maintenance on their homes. He also works as a consultant to help tech startups grow revenue using marketing and development. It looks like he hails from Boston, Massachusetts, with a dual degree from Boston University.
While some might think that a transition into politics after being thrust into the public eye and moving to Washington D.C., Roberts is still continuing on his aforementioned career path, despite the rumors that conservatives opposing Ocasio-Cortez may be spreading. Back in February, conservative podcast host Luke Thompson tweeted a picture of Roberts's email, claiming in the caption that the freshman representative was paying Roberts to be a member of her staff, "drawing a salary on the taxpayer's dime." Ocasio-Cortez hopped on social media to provide a reality check: "Actually this cal designation is a permission so he can have access to my Google Cal," replied Ocasio-Cortez. "Congressional spouses get Gcal access all the time. Next time check your facts before you tweet nonsense."
Did Riley attend her swearing-in?
Yes! Roberts was there with Ocasio-Cortez's brother Gabriel (black suit and glasses) and her mother Blanca (who held the Bible for her daughter). Roberts is the tall, bearded gentleman at the far right who was literally beaming from ear to ear in support of his history-making girlfriend.
Roberts also gave his reactions briefly to the New York Post: "A really incredible day, really special." He added that he liked Washington, D.C., thus far. "It's great."
Again, the couple is very quiet about their relationship, but on Ocasio-Cortez's Instagram announcement that she'd be running for Congress, he's the tall bearded fellow in the third image in the back (swipe through):
Ocasio-Cortez also mentioned him in a Twitter post where she rightly took the GOP and media to task for going to Roberts' family's home looking for slanderous stories about her.
It doesn't look like Roberts has social media of his own, and he clearly has no issue staying quiet but supportive. Hilariously, sometimes Roberts gets mistaken as a volunteer instead of her partner.
He caught the internet's attention after appearing in Netflix's Knock Down the House. In the award-winning documentary (which follows the 2018 primary campaigns of Ocasio-Cortez, Amy Vilela, Cori Bush, and Paula Jean Swearengin), many got a proper glimpse at the superstar progressive's leading man (at 0:35 in this video), and they were surprised enough by Roberts's look to take to Twitter to share their two cents.
Several comments about her boyfriend's aesthetic started rolling in post watching Knock Down the House, and one from political journalist Marie Le Conte started a mean, somewhat funny meme.
In a now-deleted tweet, she wrote, "Apologies for the blatantly mean tweet but THIS is what AOC's boyfriend looks like? Incredible scenes, truly representing all the ambitious and stunning millennial women shackled to boyfriends who look like bin raccoons out there."
Soon, the term "bin raccoon" was used by tons of people, and some fellow redheads had to join in support:
In the end, the couple had the last laugh; Ocasio-Cortez took it to her Instagram stories to say the jokes on Twitter inspired her boyfriend to get that post-election haircut.
"The internet roasted Riley into getting a haircut/glow-up after Knock Down the House," Ocasio-Cortez captioned the video of Roberts post-haircut.
Ocasio-Cortez explained on Twitter that because they were so busy with the election, the couple hadn't "gotten a haircut in months."
In September of 2020, on a Twitch stream, AOC joked that she was "sadly" not single. "My boyfriend's watching in the other room, he's going to be really mad," she laughed.
The following summer, AOC was asked by a fan on Instagram: "what's the key to a health [sic] relationship…when you're always in the public eye." AOC put the question to Riley, who joked, "We spend mornings together, spend quality time together, browse TikTok together."
What has AOC's family said of Riley?
In perhaps the most Mom move I've ever witnessed, Ocasio-Cortez's mom Blanca gave a gushing interview to the Daily Mail about how much she wants the pair to get engaged. (Because isn't that exactly what your mom would do if you were to become an overnight political superstar?)
"I love him. He is the most loving, supporting person I've seen. He helped her tremendously during the election," Blanca told the Daily Mail. "They've been together for four years now, after they reconnected from a college breakup. I know they love children, and they do very well with children from the family. So, I hope they get married soon." She added—and I giggled at this part most of all—"Although they haven't told me anything about their plans."
Perhaps in a nod to why Ocasio-Cortez keeps her personal life private, Blanca added: "'I don't like the limelight for myself and my family. But it seems that God played quite a joke on me with this politics stuff."
What else do we know about Riley and AOC?
Ocasio-Cortez has mentioned that she's considered freezing her eggs. She got a dog "to force myself to not live and breathe work," she told Vanity Fair. "I'm sitting here, I'm like, Do I freeze my eggs? Can I afford to do that?…My orthodontist was telling me about how she was doing IVF, and I'm, like, asking her what her experience is like."
In the meantime, Ocasio-Cortez is happy with dog motherhood. Last January, she shared a short video of the little French bulldog she and Roberts had adopted, saying, "Hey boo boo! Hi, welcome to our family" and explaining that she and Roberts were still working on a name. She also explained that he was being trained to come out in public with her:
And, like any good dog parent, she's working on the sometimes challenging crate training, saying, "He's good about his crate when we are right next to it, but he's such a velcro pup that at night he whimpers if he's not right next to us. We're working on it!"
A little later in January, she finally shared the adorable pup's name: Deco, after Art Deco. "A neighbor suggested we name him after an artist. We loved that idea, and decided to name him after Riley & I's favorite design styles: Art Deco—which is also inspired by themes of optimism & social and technological progress, and is a fixture in iconic NYC architecture." (A little love for her home town, too!)
And lest you be worried, even though it doesn't look like Deco has his own Instagram page, Ocasio-Cortez is sure to post pictures of him on her stories. Like this one!
We also know that Ocasio-Cortez and Roberts attend amazing events together:
First of all, Ocasio-Cortez looks gorgeous here. Hair down, soft lipstick, off-the-shoulder dress? Perfection. Second of all that's definitely her boyfriend Roberts in the back middle (red hair, beard, blue shirt). Per usual, he's grinning from ear to ear, clearly delighted to be there and supporting his girlfriend. Talk about being in the right room.